ShopLight is an in-store navigation system which aims to help people shop more efficiently. ShopLight consists of two parts: smart aisles (which highlight products on the shelfs by locating the user's location and item nearest to the user) connected to a digital platform for the users (mobile application)
Shopping for groceries seems fairly simple, but small tasks like these can become stressful when you have a child in your life, children add a lot of constraints like location of store, being constrained by time, budget, etc apart from the constant need of attention from the child. We tried to create a more efficient shopping system which would reduce the cognitive load of finding items and make the trip quicker and less stressful. 
Timeline:
Aug 2018 - Dec 2018
Role: UX designer 
(part of a 4 member team)
Research Methods: 
Ethnography,
 user interviews, surveys, A/B testing, qualitative and quantitative data analysis. Collaborated in planning, synthesis and analysis. 
Design Methods:
  Brainstorming, Ideation, Feature prioritisation, Information Architecture, Wireframing, Prototyping. Collaborated and led design methods. 
Tools: 
Adobe XD, Miro (Realtimeboard), Trello, Arduino
"How might we improve the grocery shopping experience for parents?"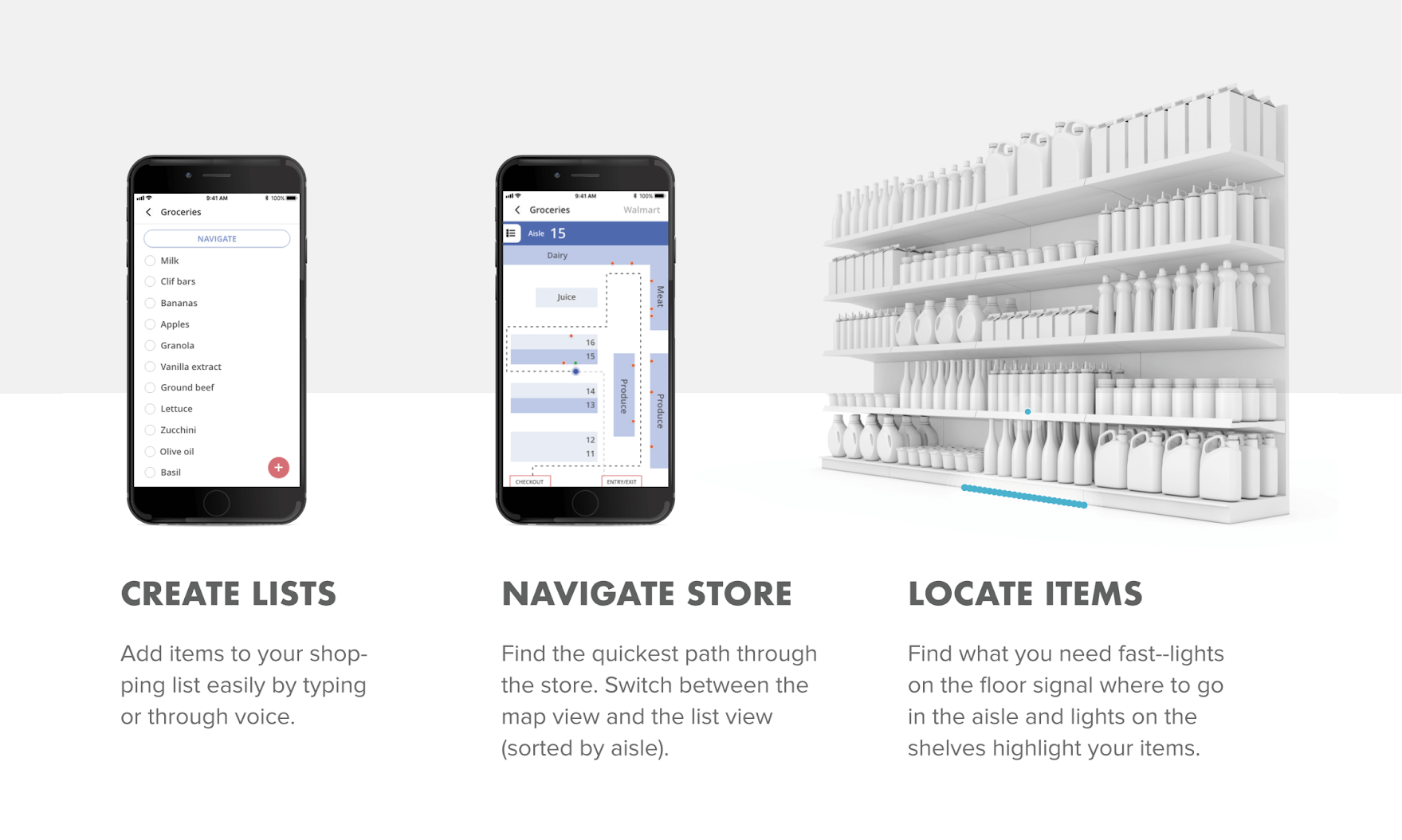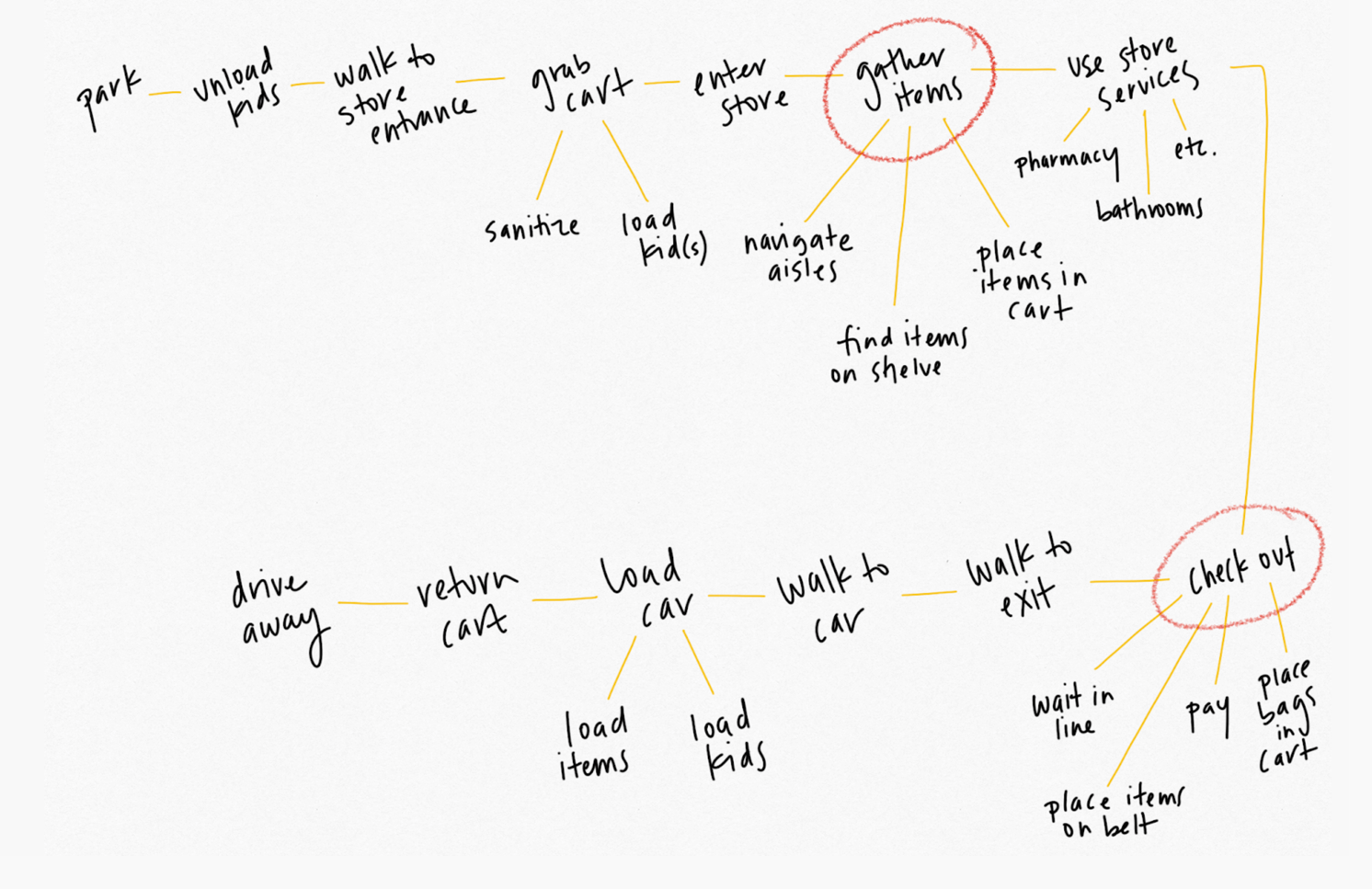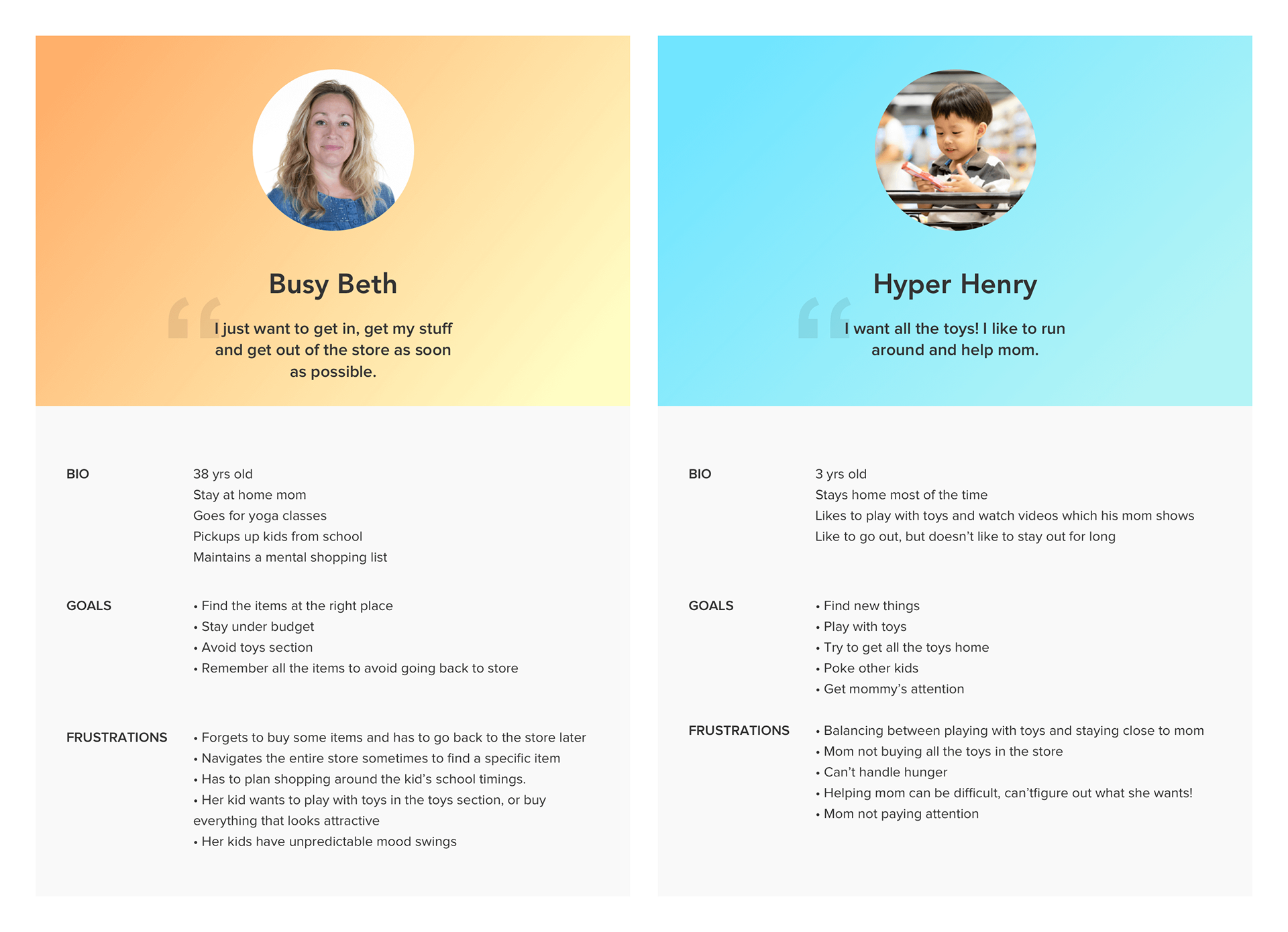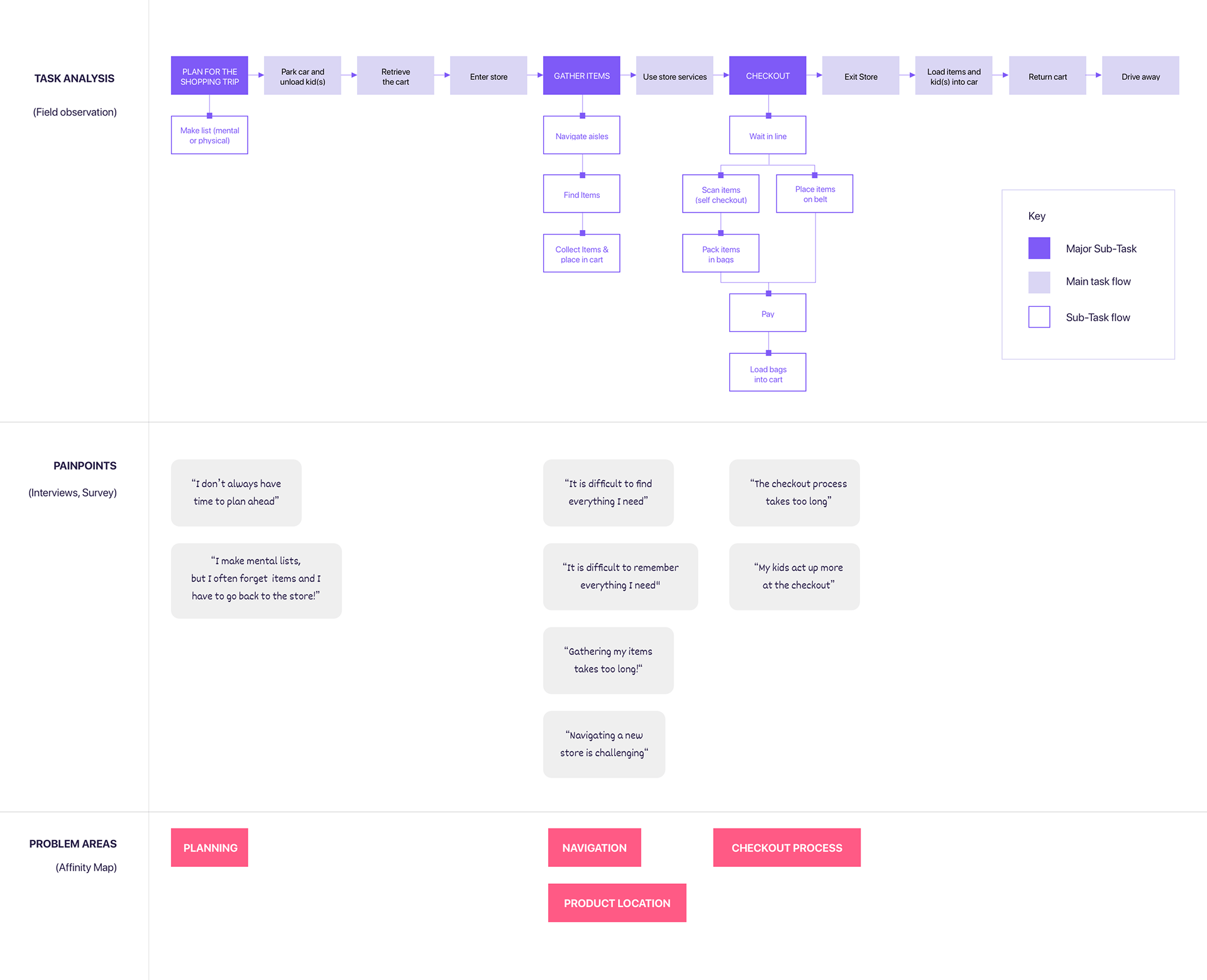 The main areas of concern/problems of our target group that we identified from our interviews were:
1. Parents want shopping to be faster
(time)
2. Parents face issues with sticking to their budget
(budget)
3. Parents do not want their children misbehaving while shopping
(kid's behavior)
4. Parents believe in-store navigation should be easier and faster
(in-store experience, time and comfort)
5. Parents do not want to forget things while shopping
(planning)
6. Parents believe waiting at the checkout line gets a little frustrating 
(in-store experience)
We selected the following areas to ideate and conducted brainstorming sessions for each area:
Area 1:
The Trip Planning Process
Area 3:
Curbing Misbehaviour
Area 4:
Improving the Checkout Process
We came up with numerous ideas and shortlisted three solutions based on how effective and feasible they were to further explore them. We conducted a second brainstorming session for each one of the three shortlisted designs. After iterating and critiquing the ideas, we conceptualised them. 
Design Idea 1: Navigation and Product Highlighting System
A navigation and product highlighting system for in-store use that aids users in quickly gathering items on their shopping list.  The system uses LED lighting and haptic feedback on the cart to help users navigate in the store in conjunction with another series of LEDs to highlight shopping list items on the shelves.  The system also provides alerts for missed items when users move to the checkout. This idea primarily addresses concerns in
Area 2 (Store Navigation)
.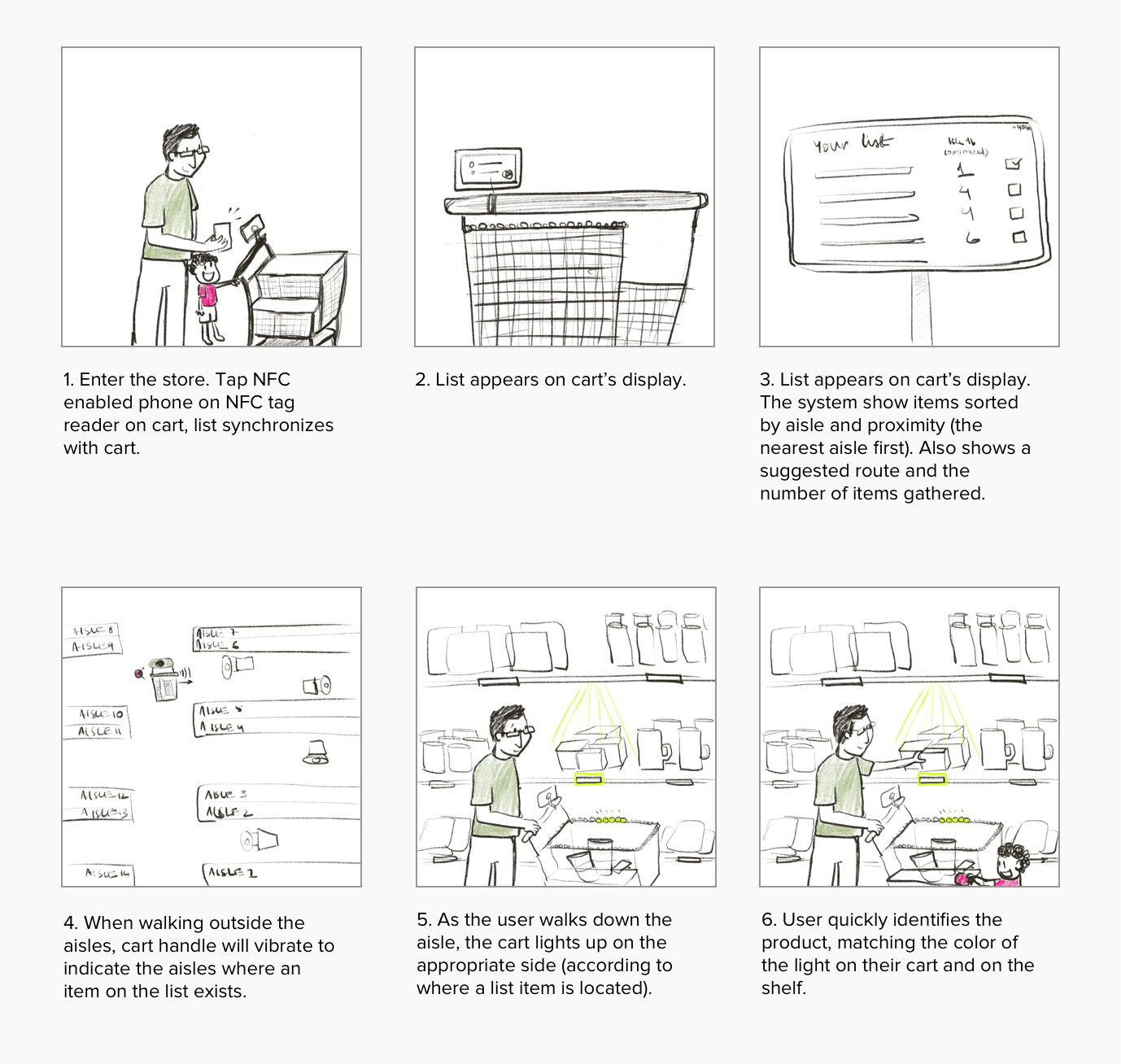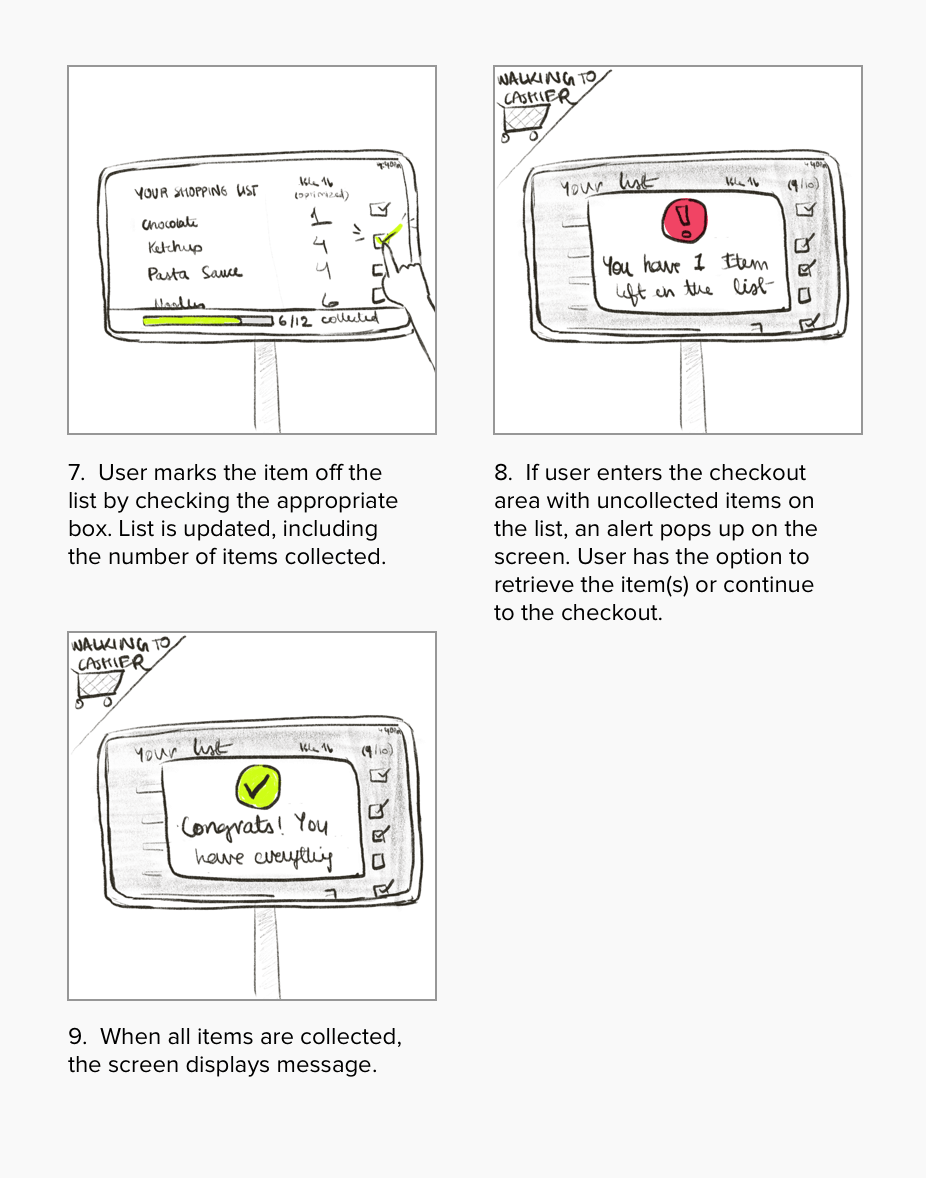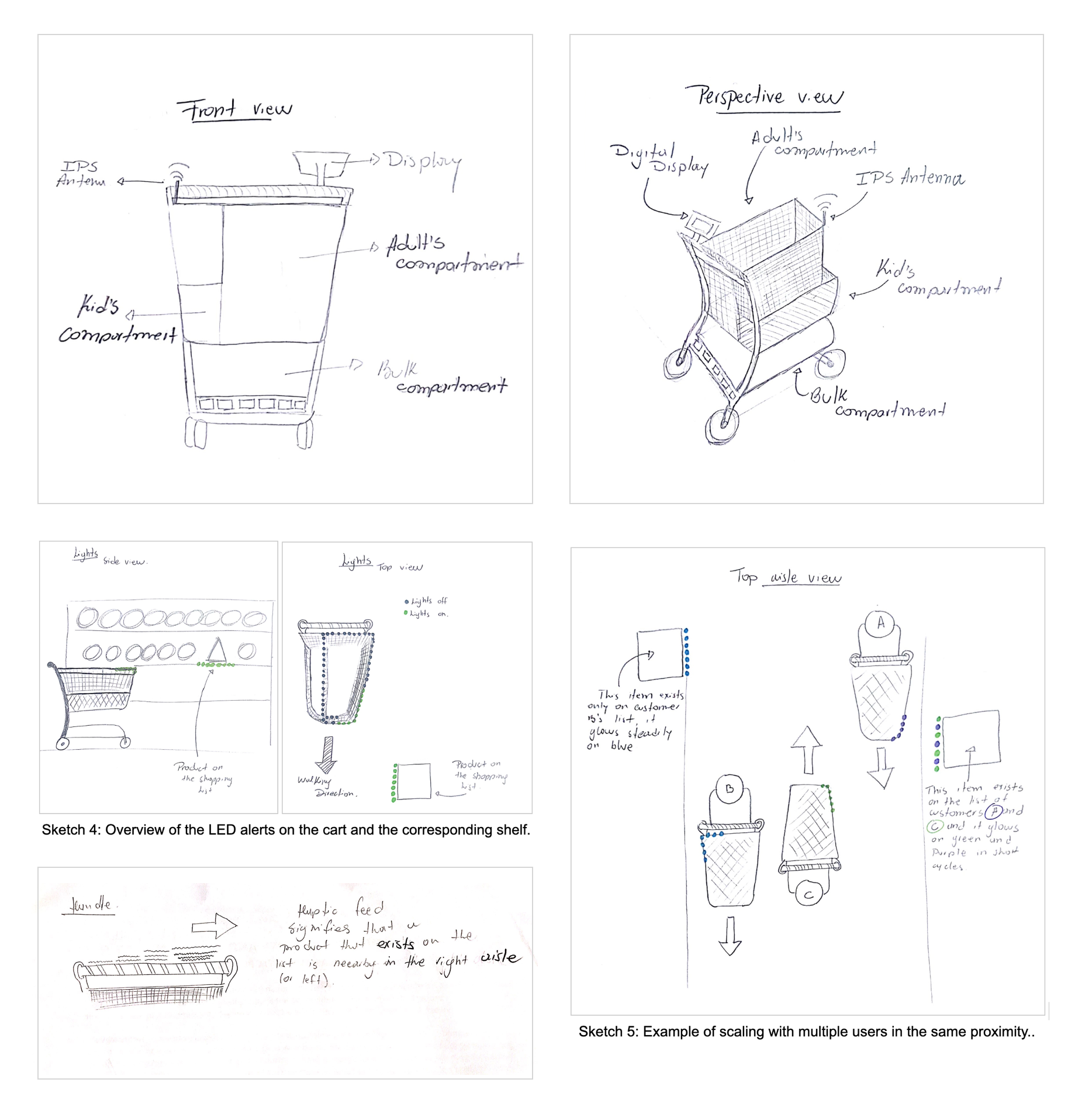 Design Idea 2: Cross-Platform Shopping List
An integrated shopping list system that involves a digital paper-like surface that can be attached to a vertical space in a kitchen (e.g. a fridge), an app, and optional use of a digital assistant (e.g. Amazon's Alexa).  All input methods are synced and provide an easy and flexible way to plan for a grocery shopping trip. This design addresses concerns in
Area 1 (The Trip Planning Process).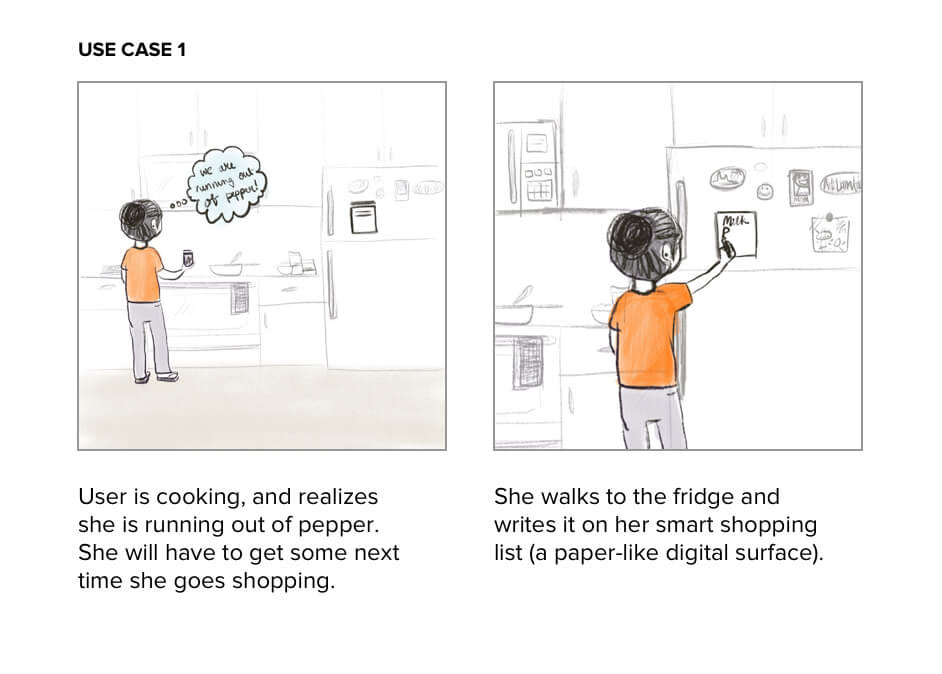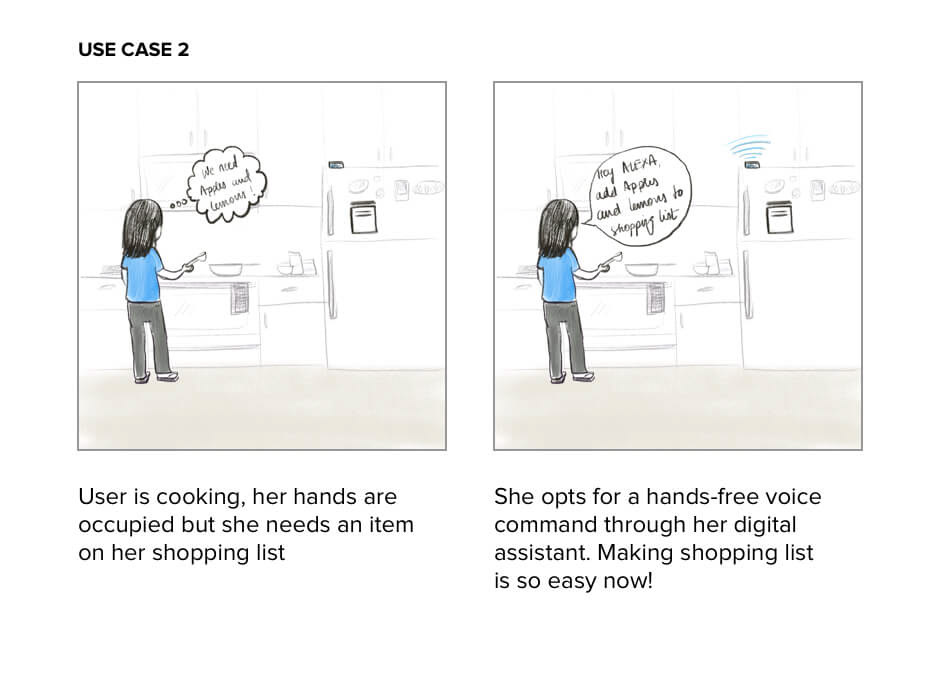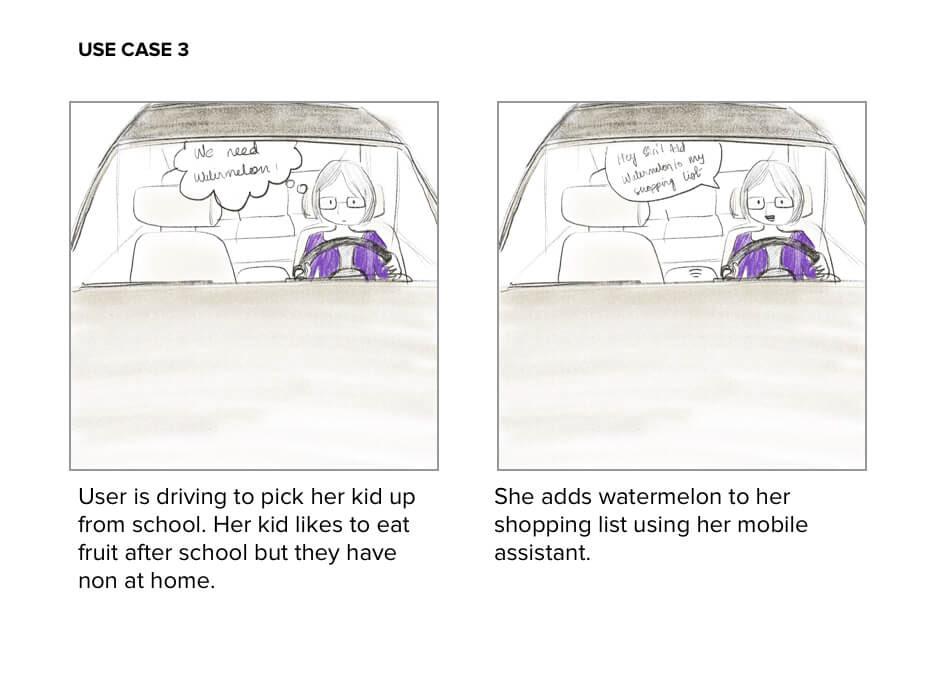 Design Idea 3: The Play Cart
A "Play-Cart" to help curb misbehaviour in children. It is a gamified theme based solution, which involves kids in the shopping experience by giving small tasks. This help parents focus on shopping, and provide a means to skip the lines at the checkout entirely.  This solution addresses problems in Area 3 (Curbing Misbehaviour) and Area 4 (Improving the Checkout Process).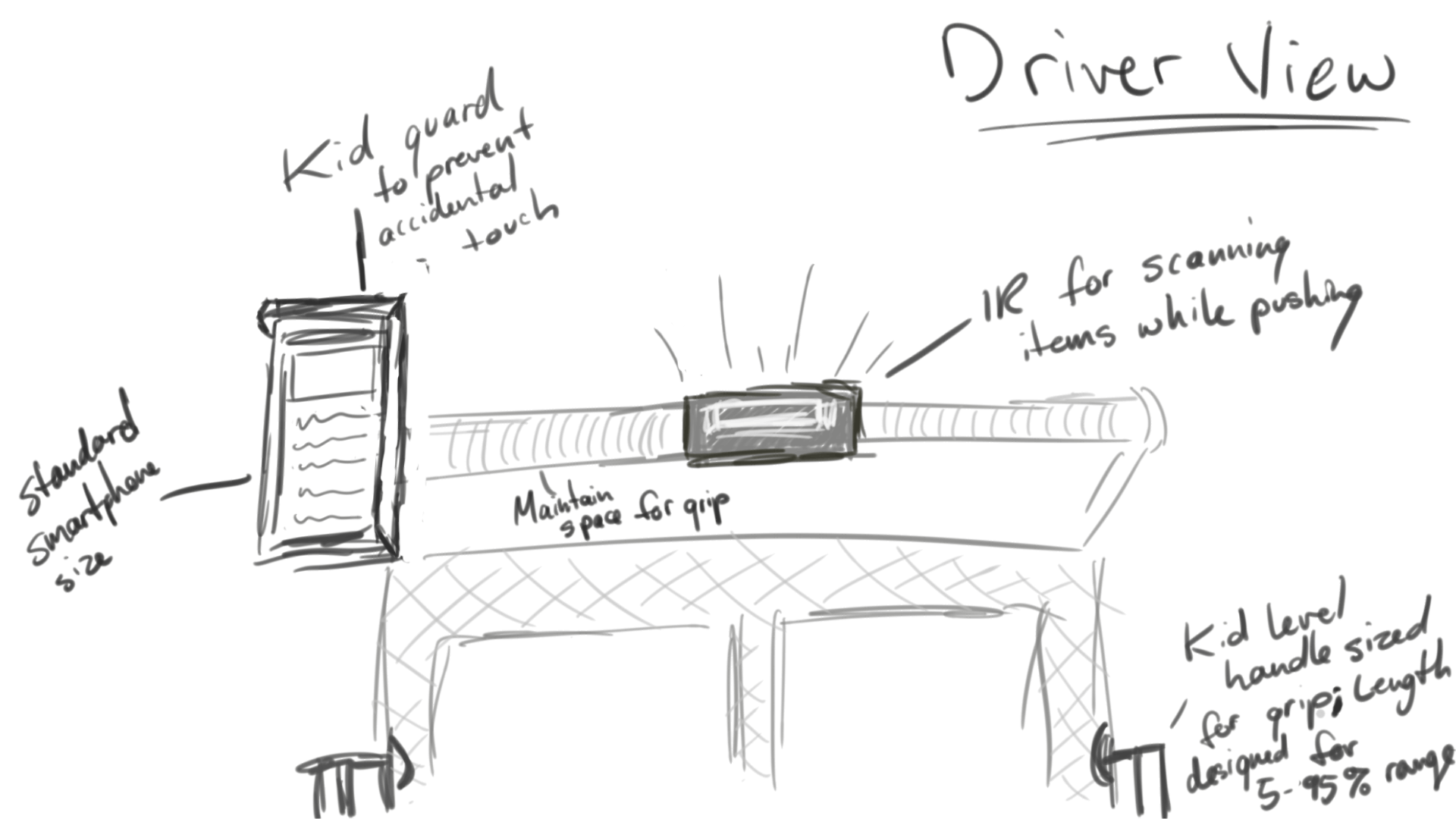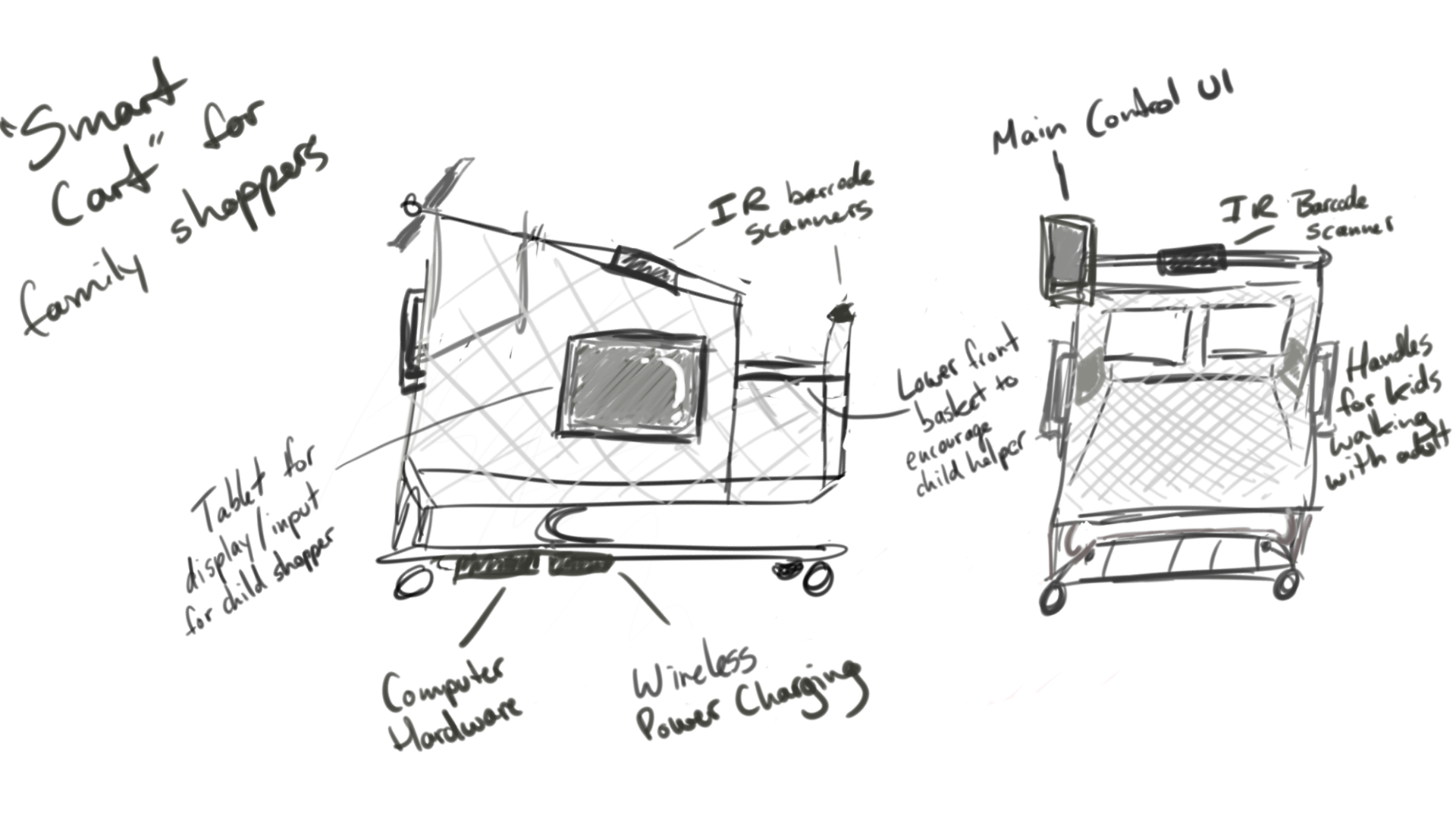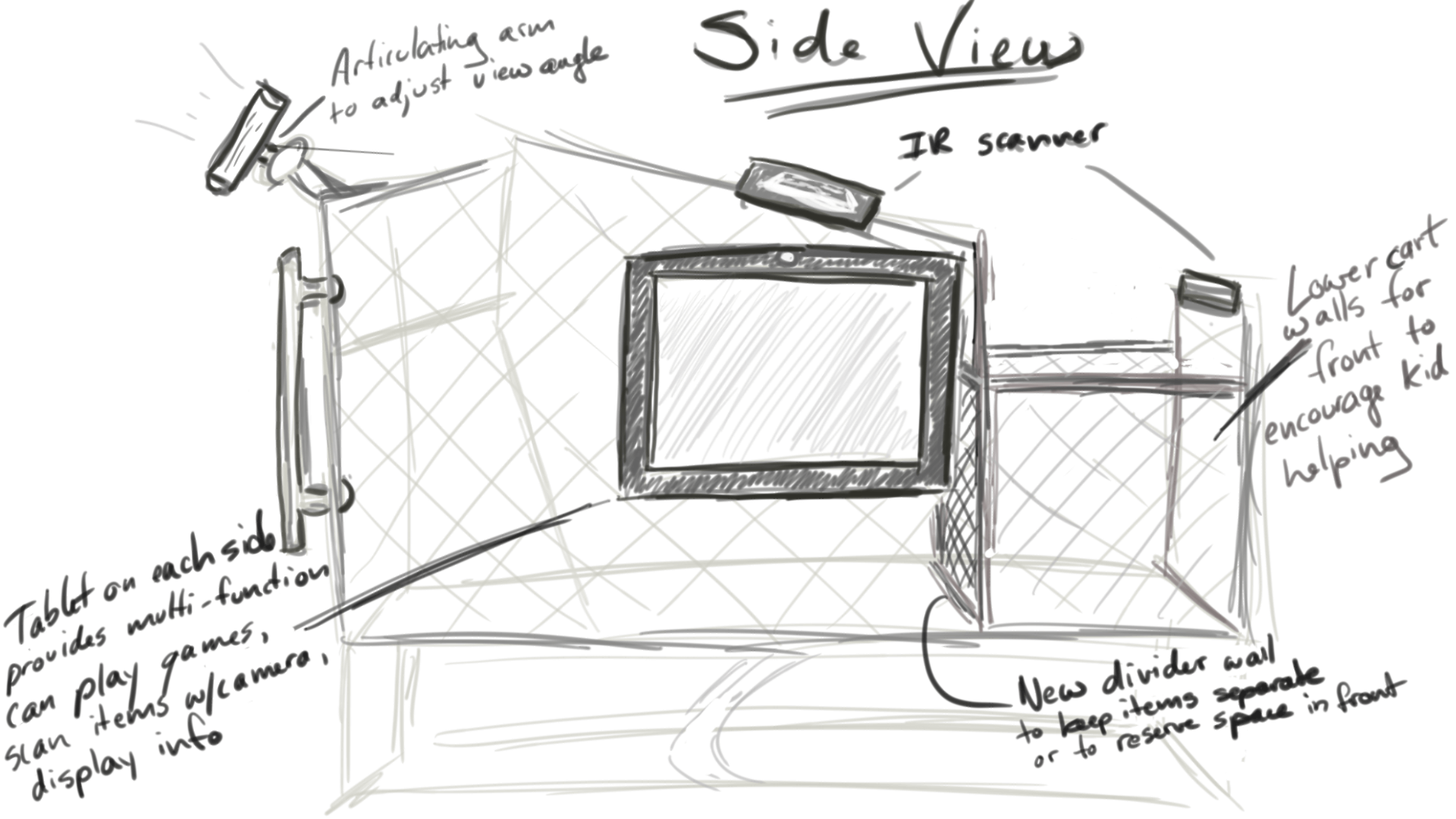 After discussing the pros and cons of all three ideas we decided to take some of the best features of our ideas and combine and build on them to create a new in-store navigation experience. This experience is centered around a mobile app that connects to an in-store, light-based navigation system, that would allow users to navigate faster, find their items quickly, and ensure that the user gets everything on their list. We decided to focus more on the navigation part and tried to make the process more efficient.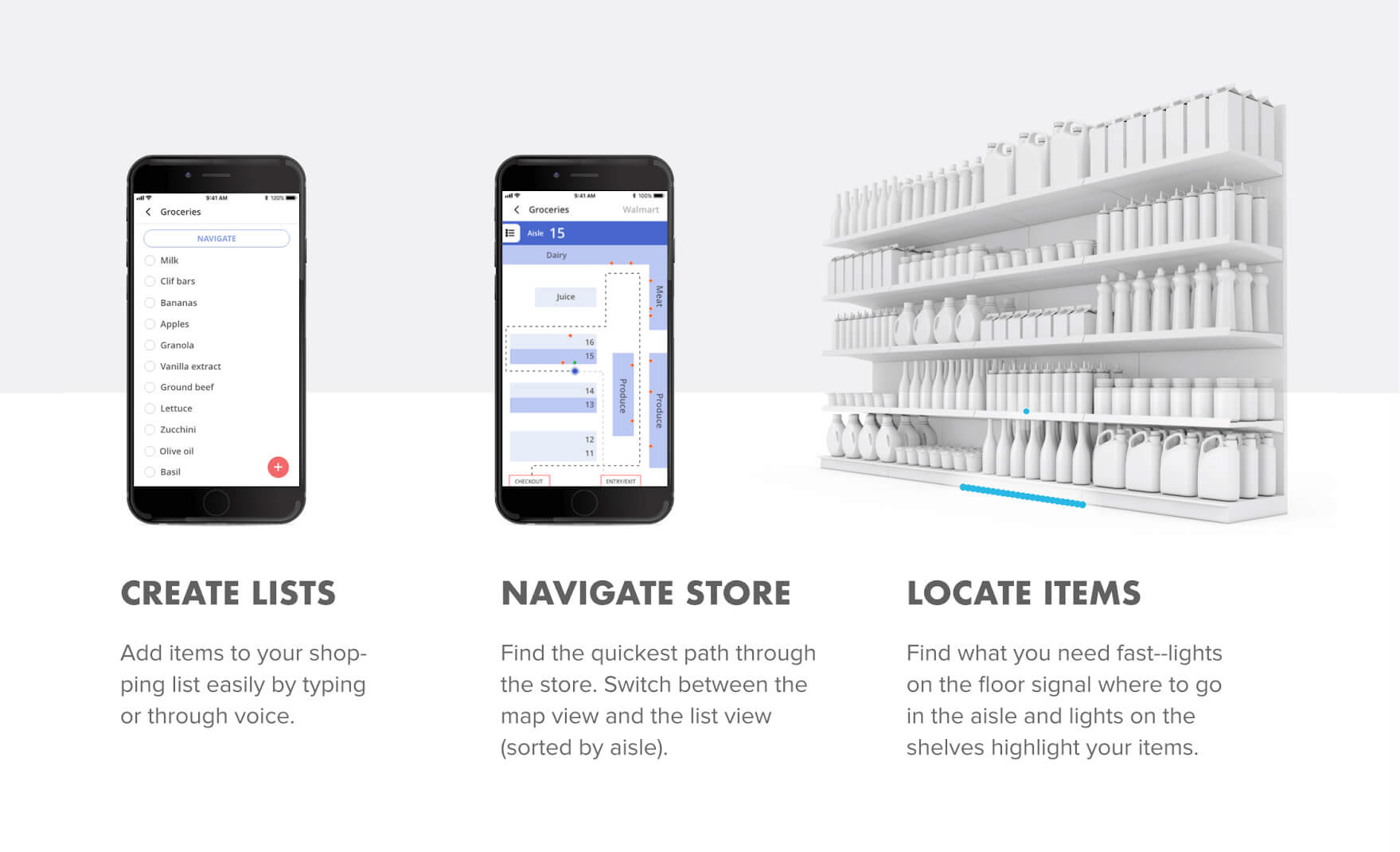 Part 1: Mobile application: 
After brainstorming the main features that we need in the app and what is the purpose of this app, we created the mindmap/IA while considering how it can complement the light navigation system. Although we mapped the entire app flow, we limited our prototype for the project's purposes to just the navigation flows as this was the most critical feature addressing the problem we were trying to solve.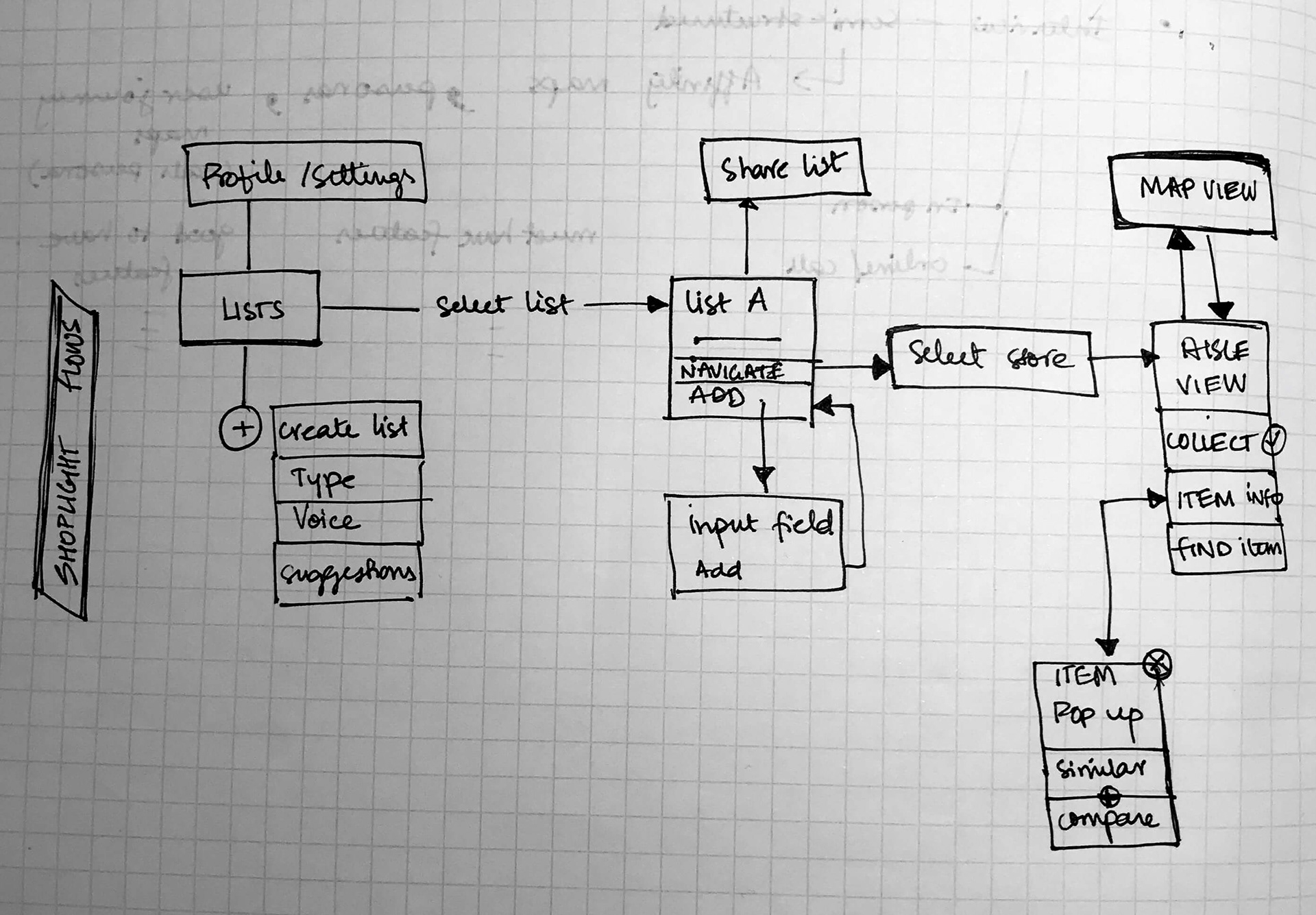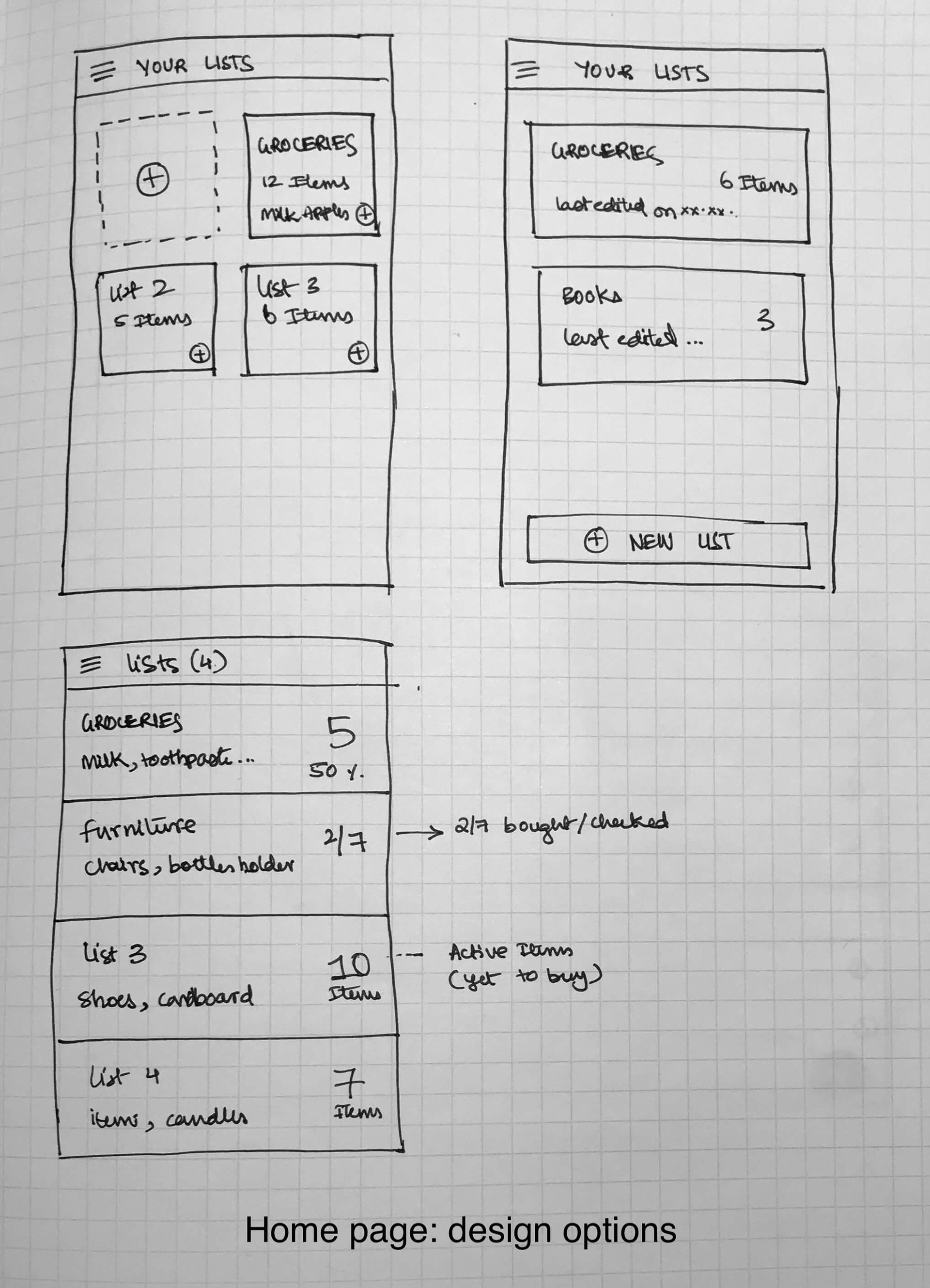 Part 2: LED lighting system
After brainstorming, two of my team members designing the LED lighting system. The concept was that the app would talk to the lights, and using your indoor location, once you are in an aisle, these lights (placed along the aisles) will guide you to your items. The item itself has a light, which would glow. To curb the issue of multiple people, we decided to have different colors for each user (from our observations, we found no more than 6 people in an aisle). Watch the demo video below to see it in action.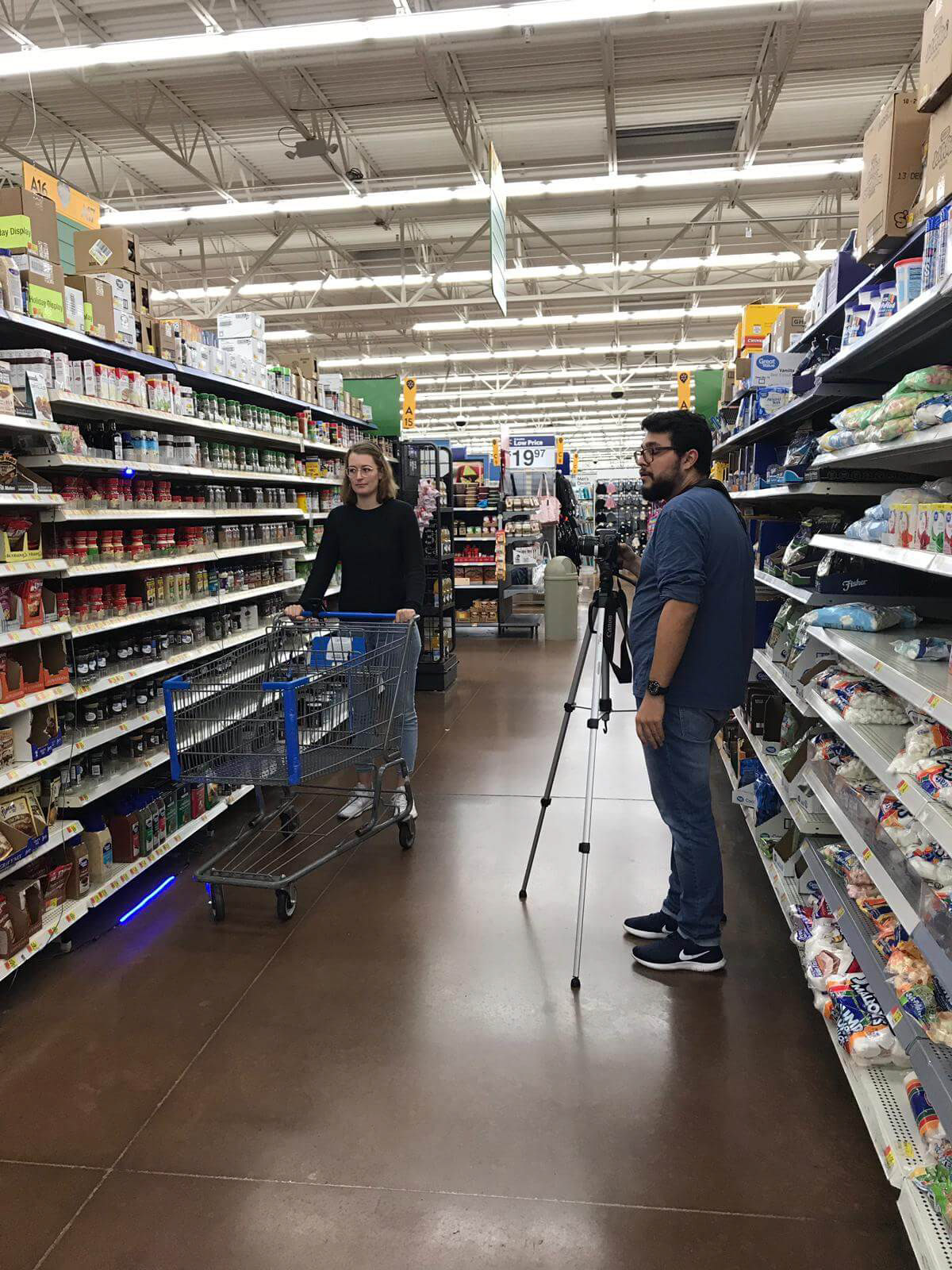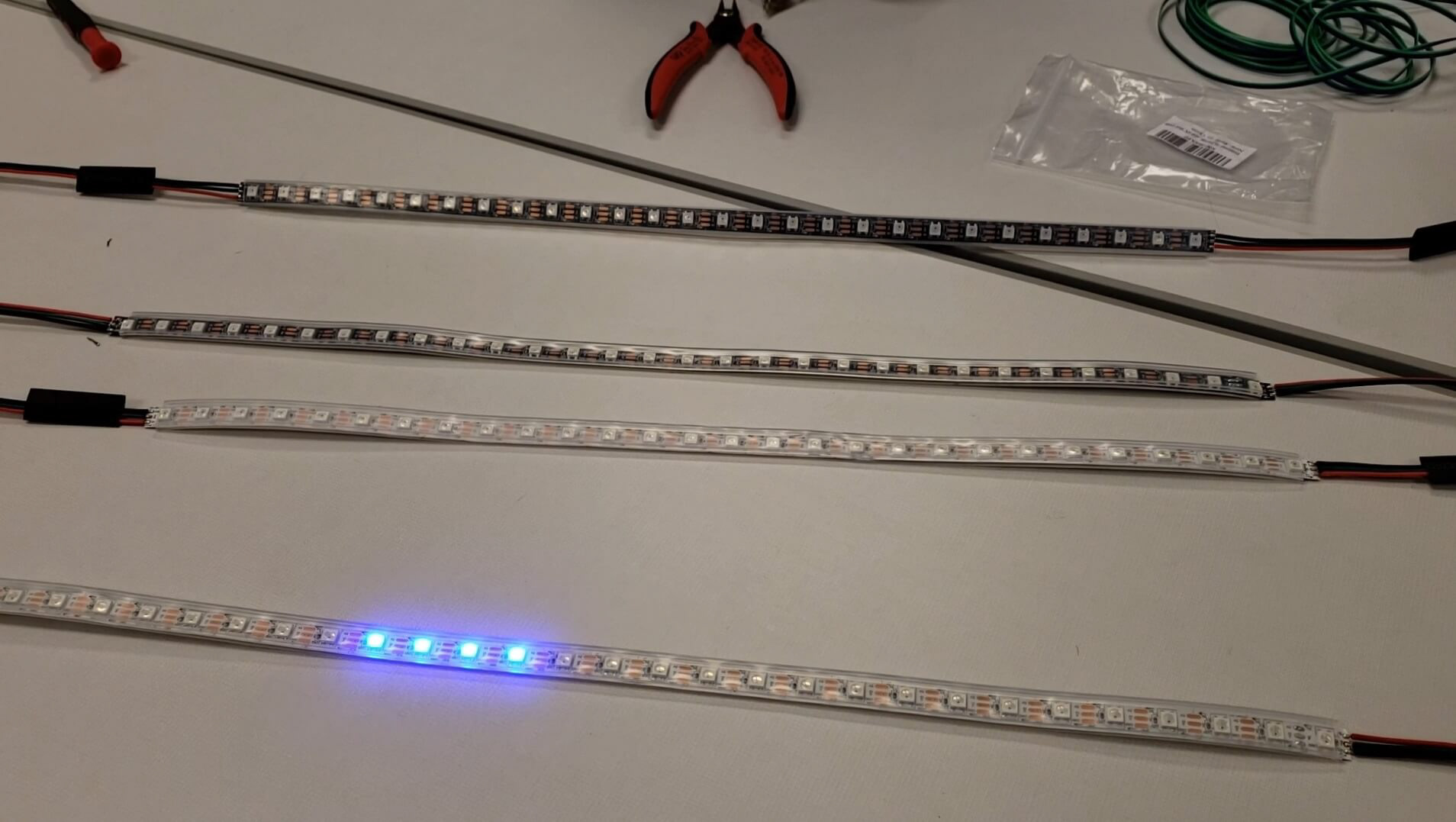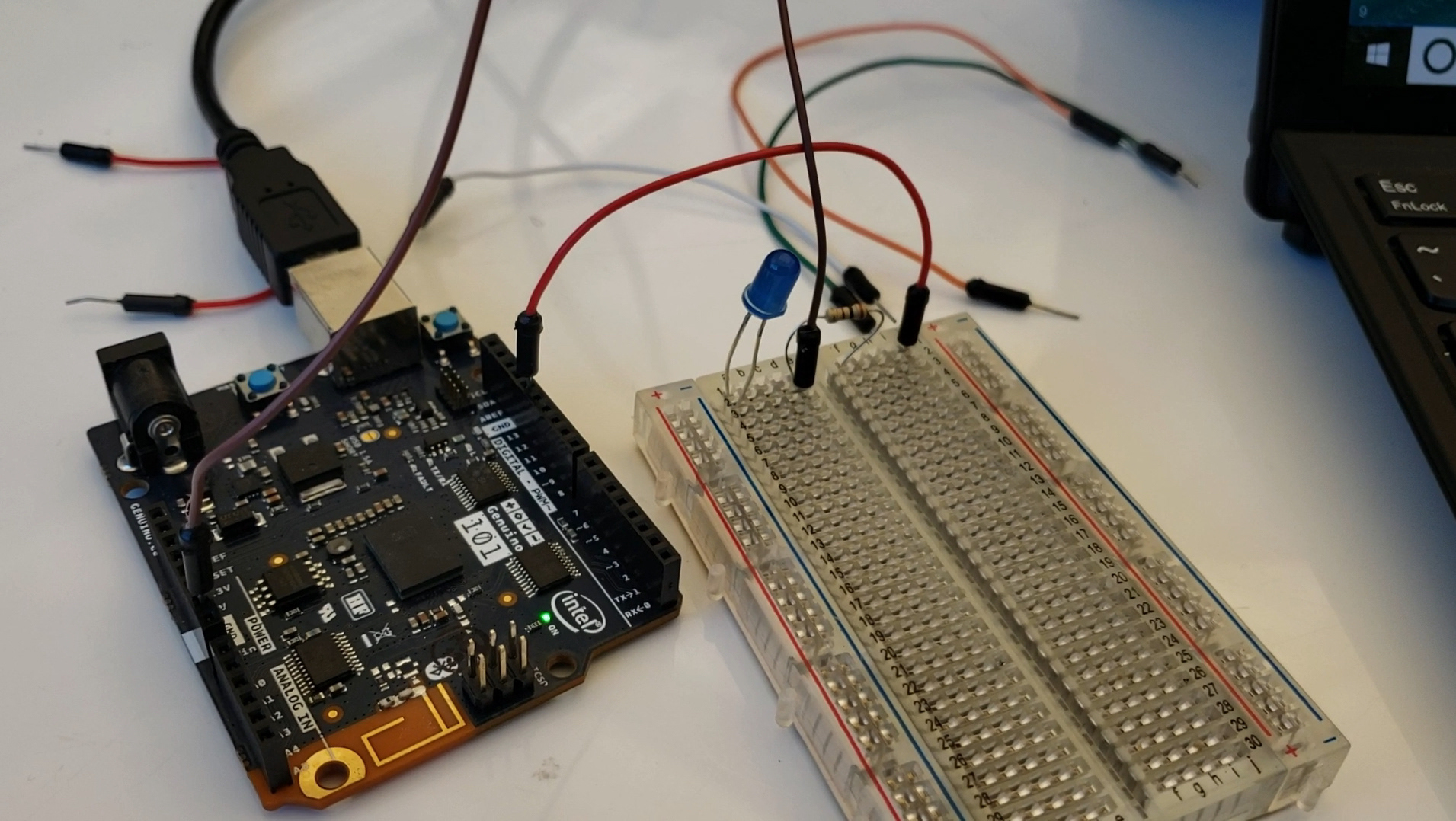 We created a virtual store using shelves in our department, and conducted A/B testing with 8 participants. We asked the users to collect a list of items from this virtual store – with and without our system, and measured the rate of collection in both scenarios. We conducted a NASA TLX and Post testing questionnaire to further understand the cognitive load and user's feedback. 
Some of the drawbacks of our prototype were that we could not implement turning on the Lights as the user walks (by detecting the user's location), simulating a presence of a child, and a larger realistic scale of the store. 
Goal 1: Does ShopLight reduce shopping time?

Goal 2: Does ShopLight reduce cognitive load?

Goal 3: How was the experience? More insights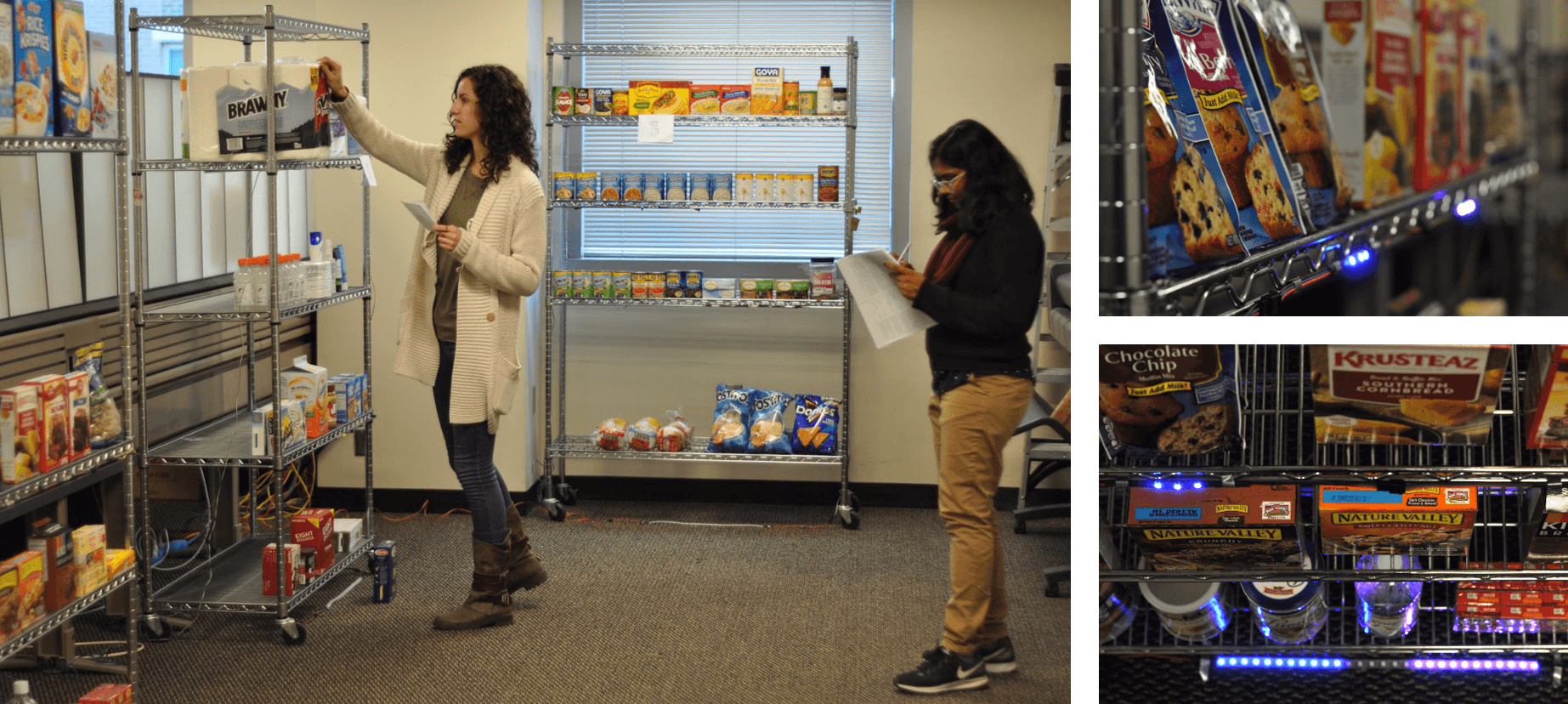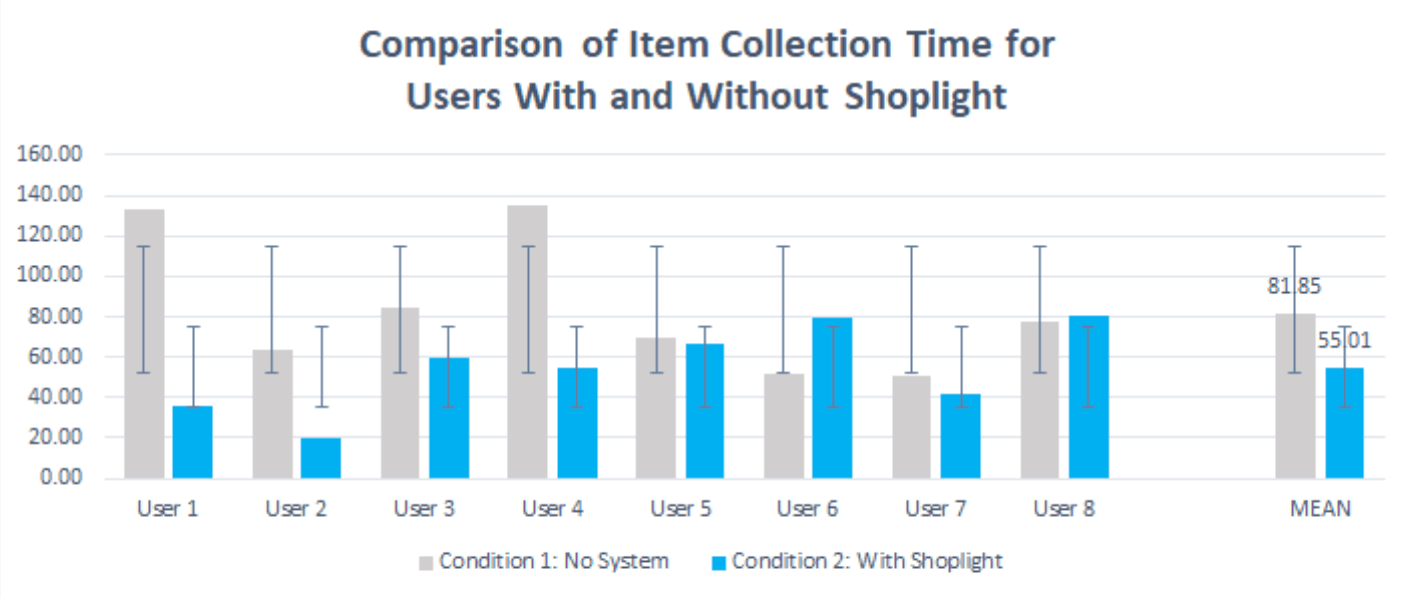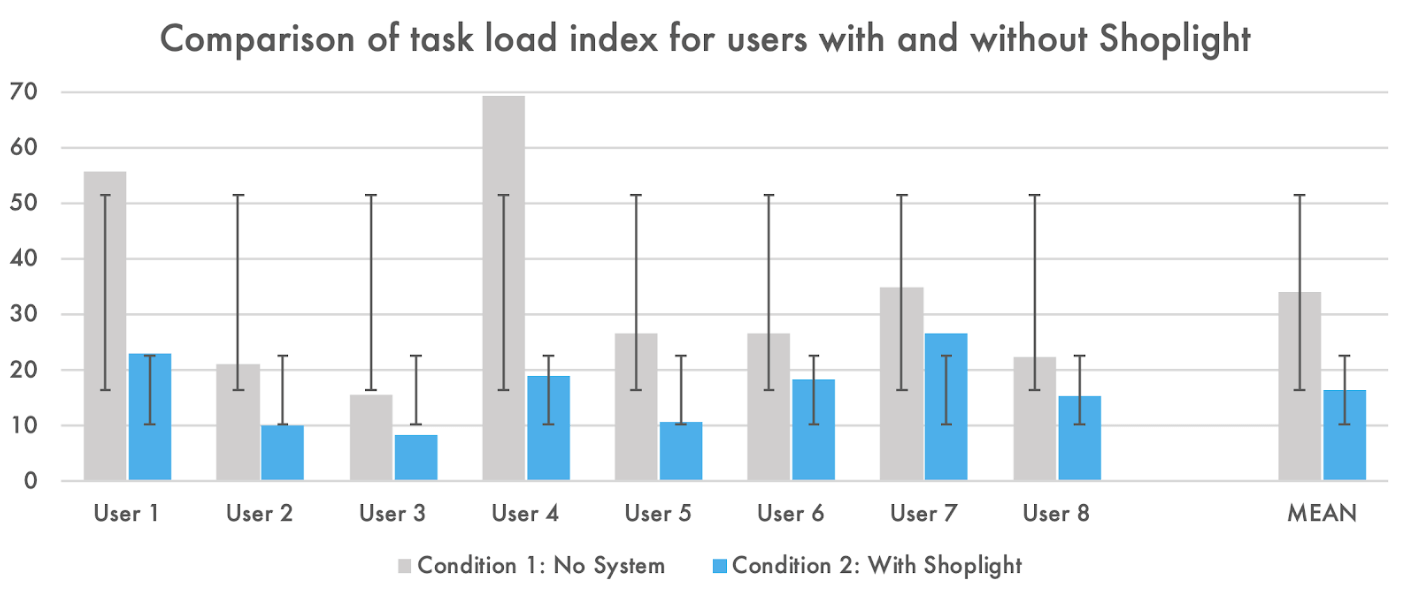 Results: 
1. Participants were 
24.84 seconds faster
 (on average) at collecting their shopping list items.
2. Participants' scores showed a 
47.11% average decrease in cognitive load.
3. M
ost common complaint:
the lights were too stimulating
* The results of this study are specific to the subjects recruited throughout the five month project process and are not meant to be generalized to the rest of the population.
Ideas from our evaluation: 
1. Including the images of the items listed in the app can help recognition and improve speed
2. Adjust the brightness of the lights according to the environment (some of our participants found the light too bright)
3. Have a "find an item" feature on the app that triggers additional help locating an item (item lights can blink to call more attention)
4. Have a personalised experience, creating settings to edit the brightness, if the user needs the lights to always guide or not, etc.
The vision for this application/system is to have a full fledged mobile app and this light system (for the actual prototype we might choose to have dimmer/diffused lights or digital displays) in all the stores so that the users can have a seamless shopping experience. For the app itself, we wanted to make it
more accessible
, have
voice interactions
, integrate with alexa and google home - this would also make the creation of shopping list much easier.  
Using machine learning to track the shopping behaviour and
suggesting items
in this app could further help customers create shopping lists very easily. Other aspects that we considered was to extend this app to
compare prices
and help customers budget and select stores better. A possible direction which this idea can be taken in future is replacing the lights with
digital displays
or an
AR navigation
. 
Other potential applications
: With the increasing delivery and online shopping, our design can be used in 
warehouse item location
and
online ordering fulfilment
.
This project was a space for me to learn the science behind the different research and design methods and practice them. It helped me become more confident and structured. This project also gave me an opportunity to work with a diverse set of people from different cultures, nationalities, and academic backgrounds. With my work-experience, I was able to introduce my team members with non-design backgrounds to the real world applications of what we were learning, which helped me understand the methods even better. I also really liked the fact that this project is not just a mobile application (learned a little about how to use LEDs and Arduino), integrating it with the environment made this project more ubiquitous and the project was overall a great experience.