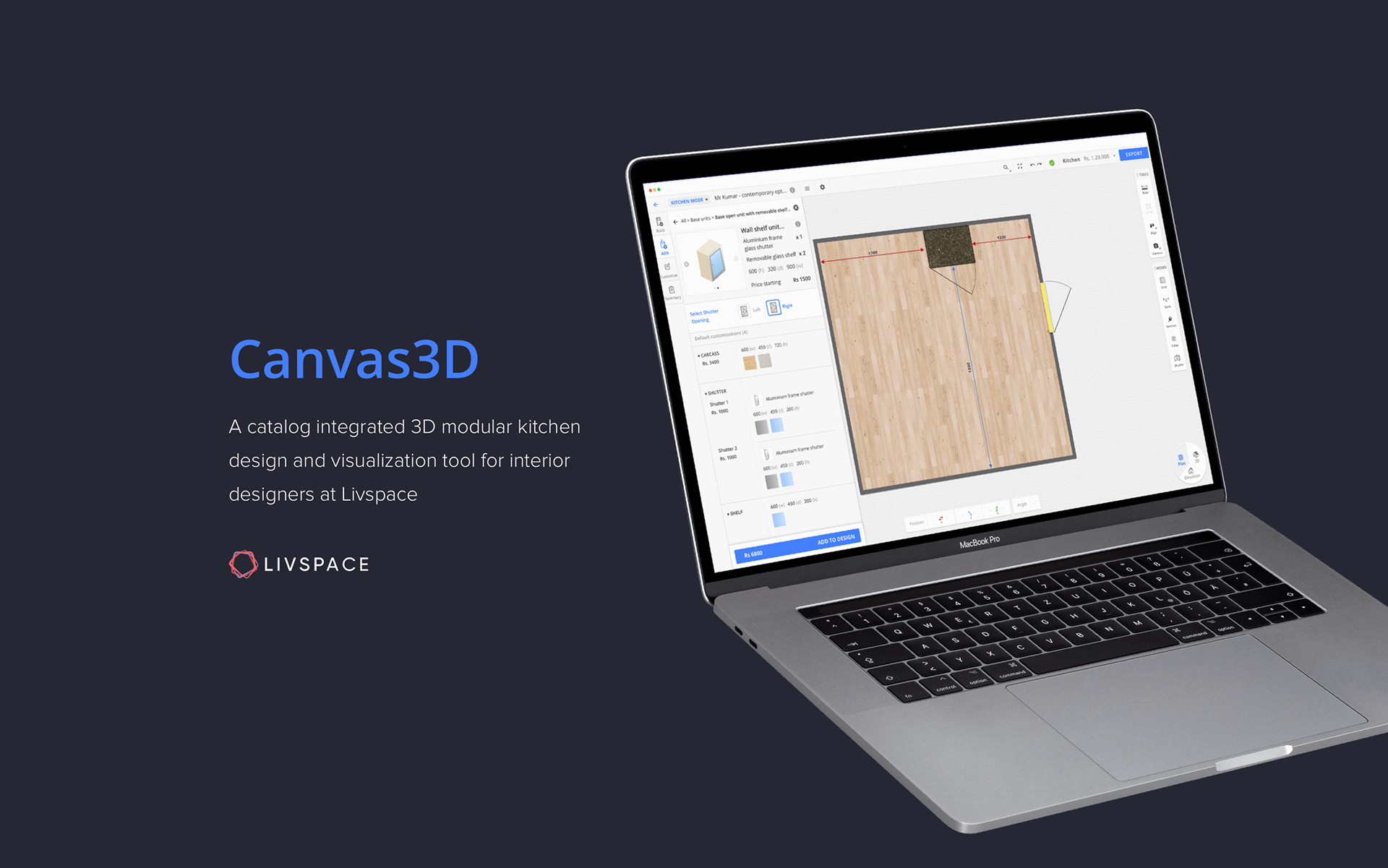 Livspace provides end-to-end interior design solutions for home owners. Kitchen design is a primary source of revenue (50% of total revenue).
Interior designers use ​3-4 disjointed softwares to create assets for sales, manufacturing and installation. Use of multiple design softwares makes the project timeline unpredictable and error prone, which impacted the customer experience.
- Increase the total lead conversion by 2x
- Reduce the information loss between design and execution 
- Improve the efficiency of interior designers to meet the demands of increasing number of customers, and helping Livspace scale
Responsibilities as a UX/UI designer: 




- 

Collaborate with operations and business teams
- Create UX flows and UI designs
- Create low-high fidelity prototype
Primary design & prototyping tools: 
Sketch, Invision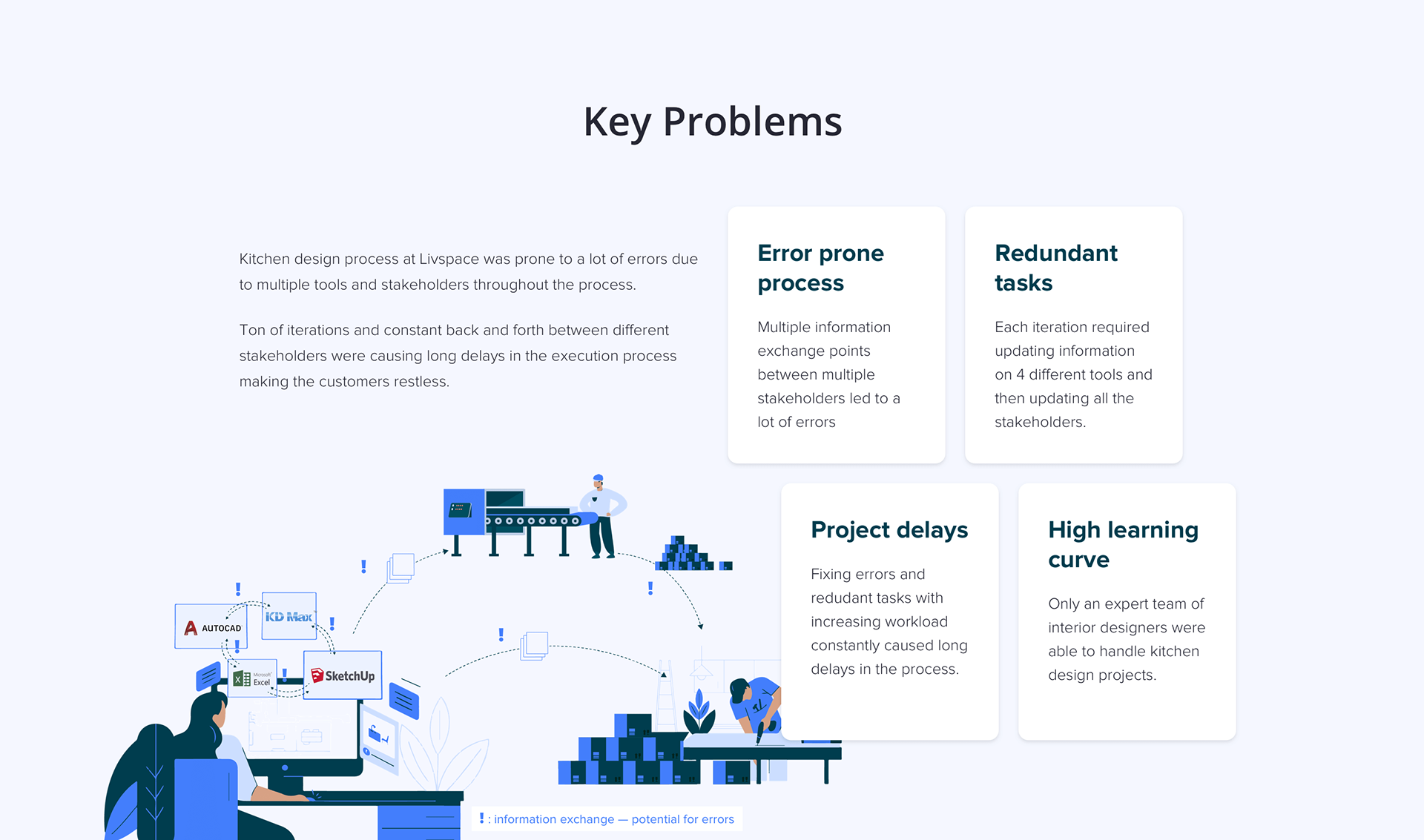 How might we make the Livspace's interior designers' 
kitchen design process easier and more efficient? 
A single source and design tool integrated with the project management platform 
reducing redundant work and errors due to information loss.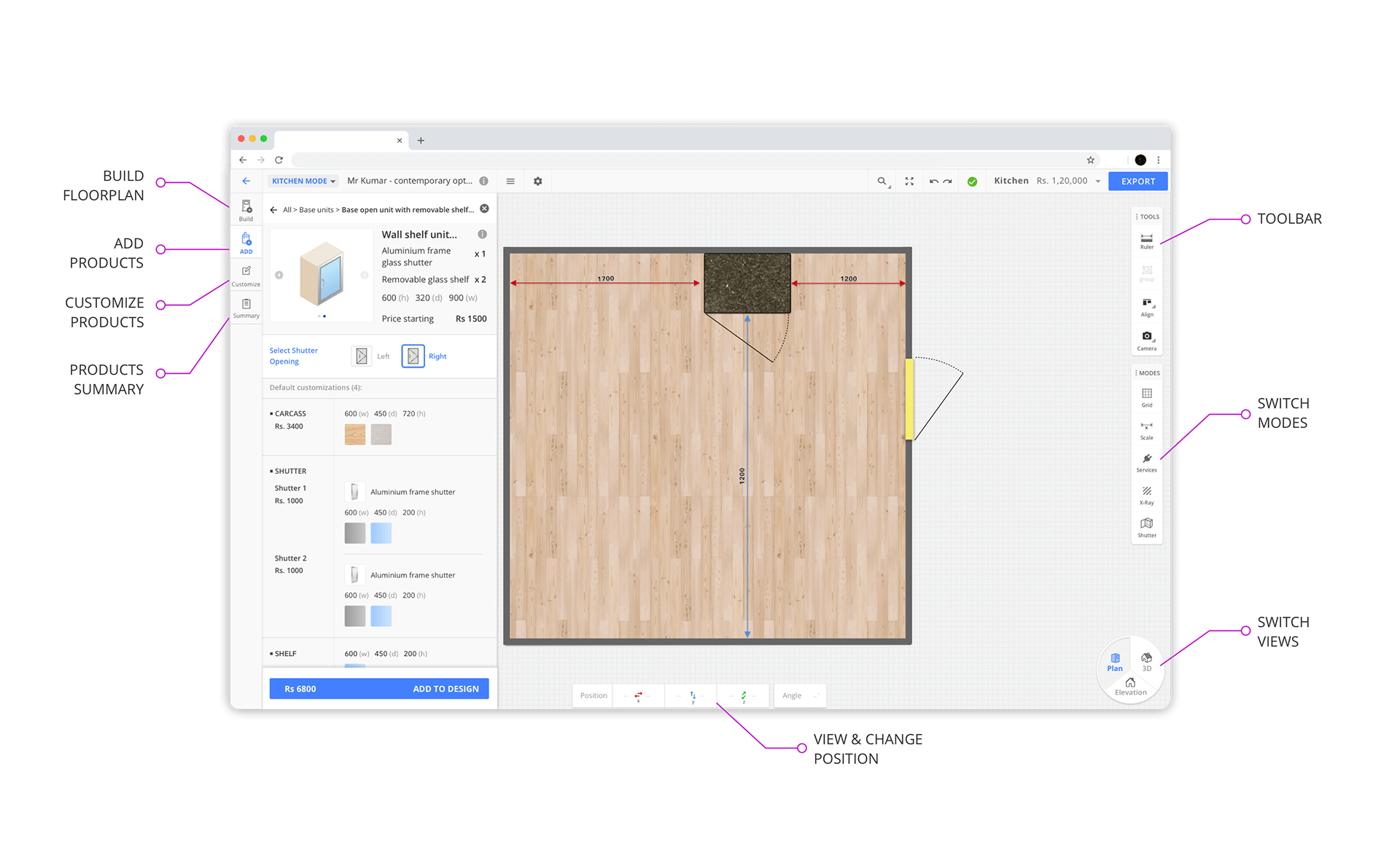 Understanding the user needs, business and stakeholders
To better understand the kitchen design process I
interviewed
6 interior designers (3 from kitchen design team, 3 from full home team). I conducted
field observations
by visiting client meetings and manufacturing units. I observed the monthly kitchen design orientation meeting. Apart from this I looked into my previous research on different roles involved in the interior design project (general managers, order management executives, category managers, sales and marketing executives) and understand how the entire interior design system works and how kitchen design fits into it by designing a service blueprint. 
I also conducted
competitive analysis
on products directly competing and indirectly related to kitchen design or interior design including the products and design flows which interior designers currently use. 
From my research, I identified two main user personas (expert and amateur), and mapped their user journeys to understand the communication and information flow in the interior design system.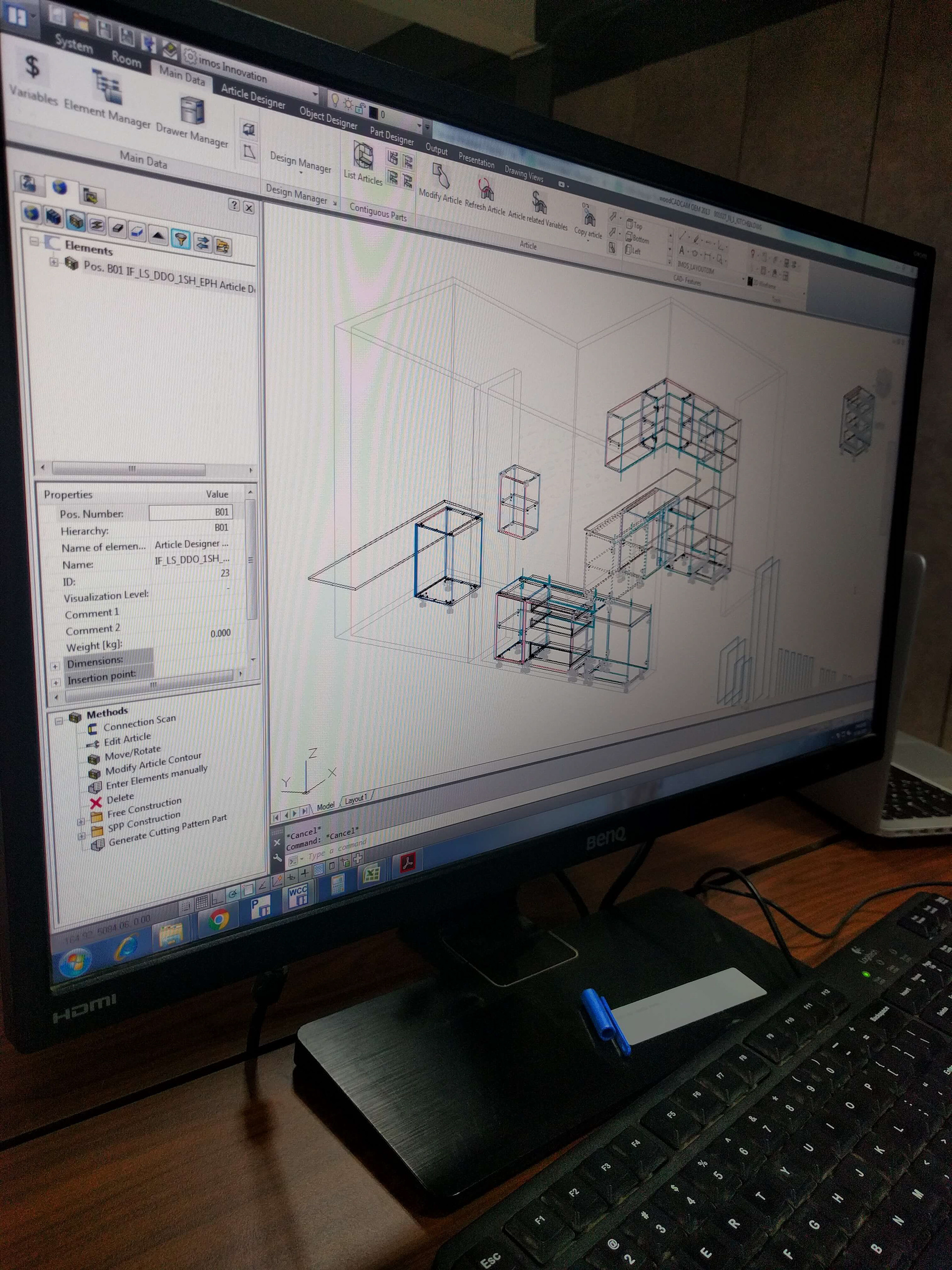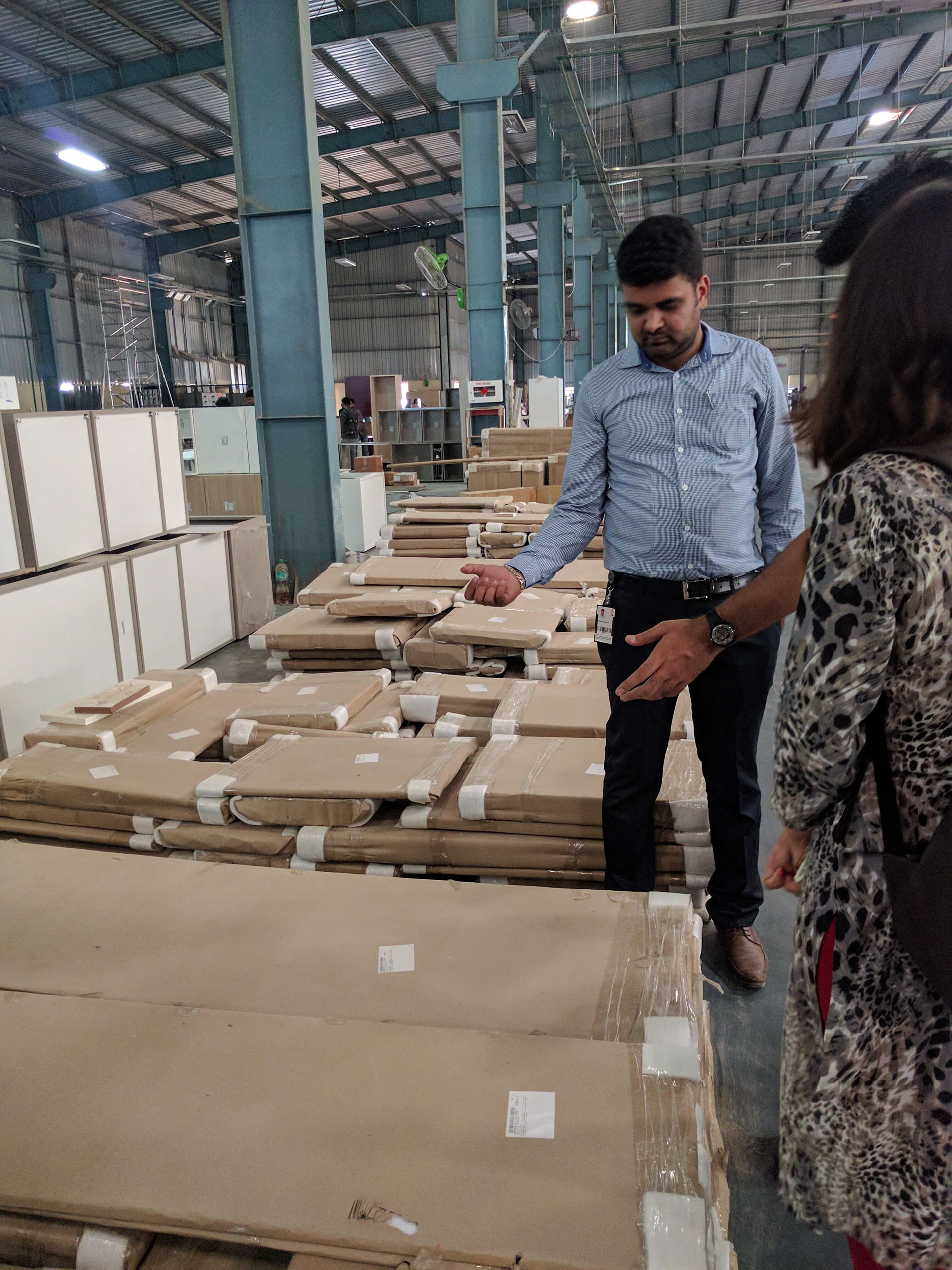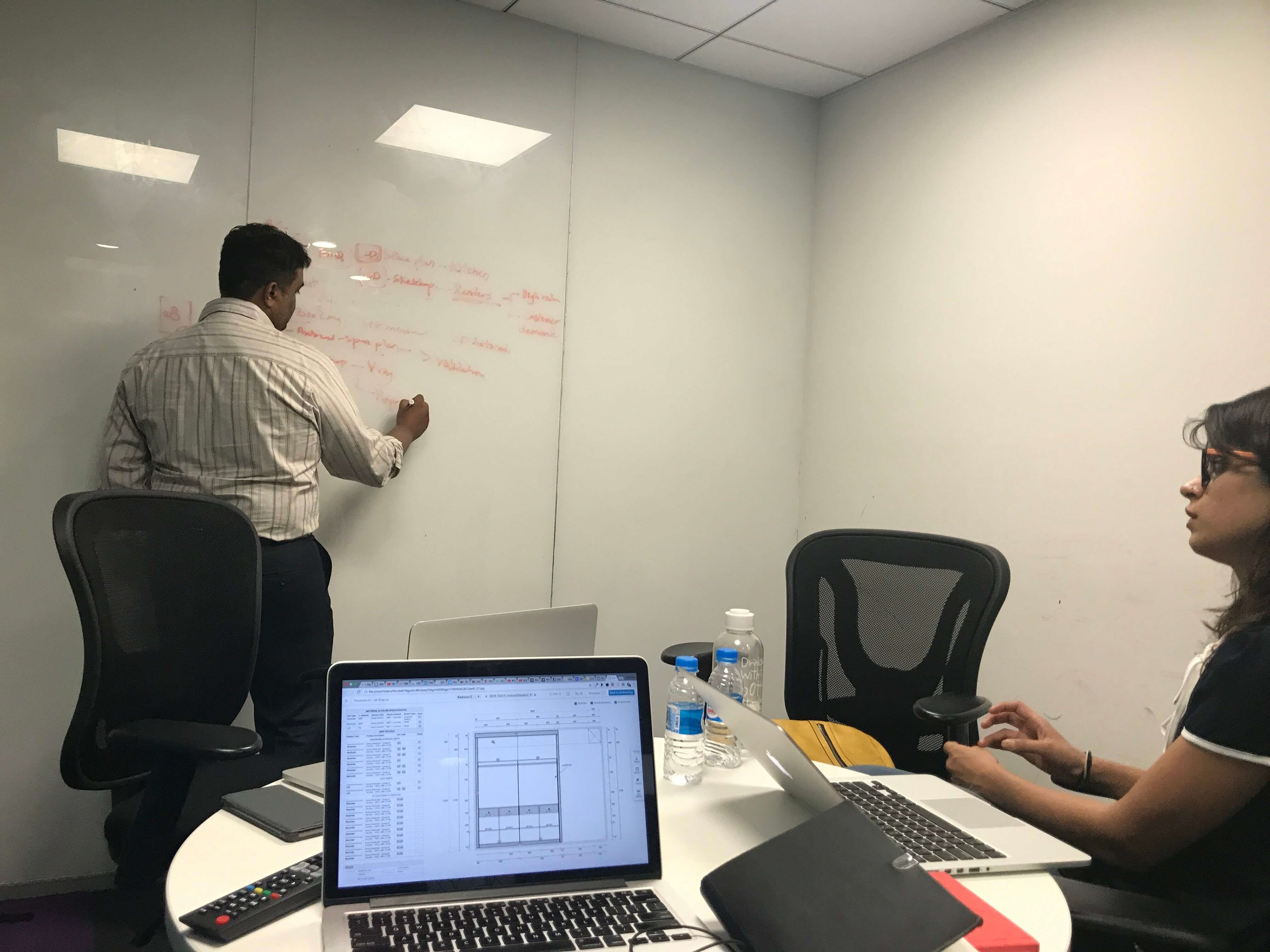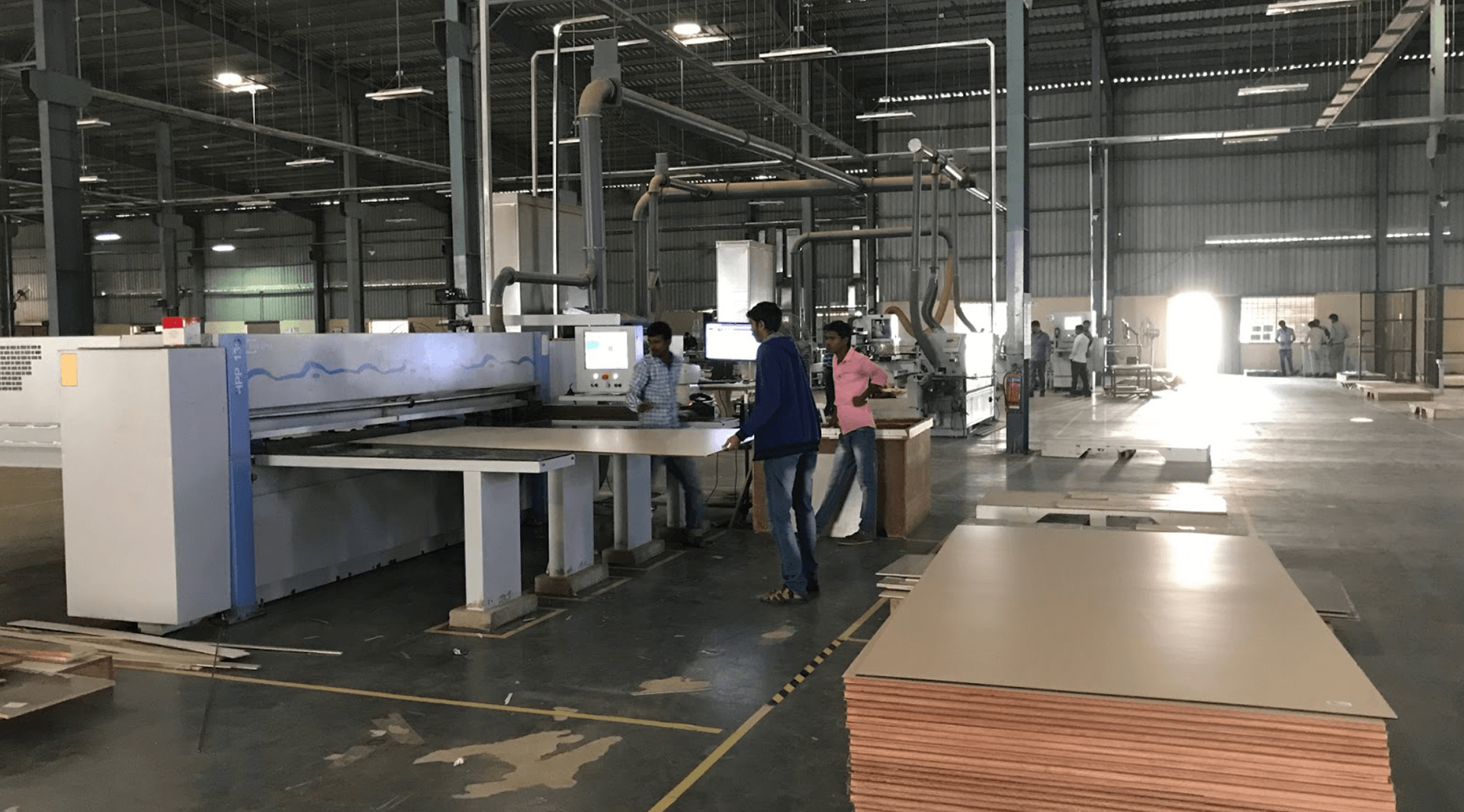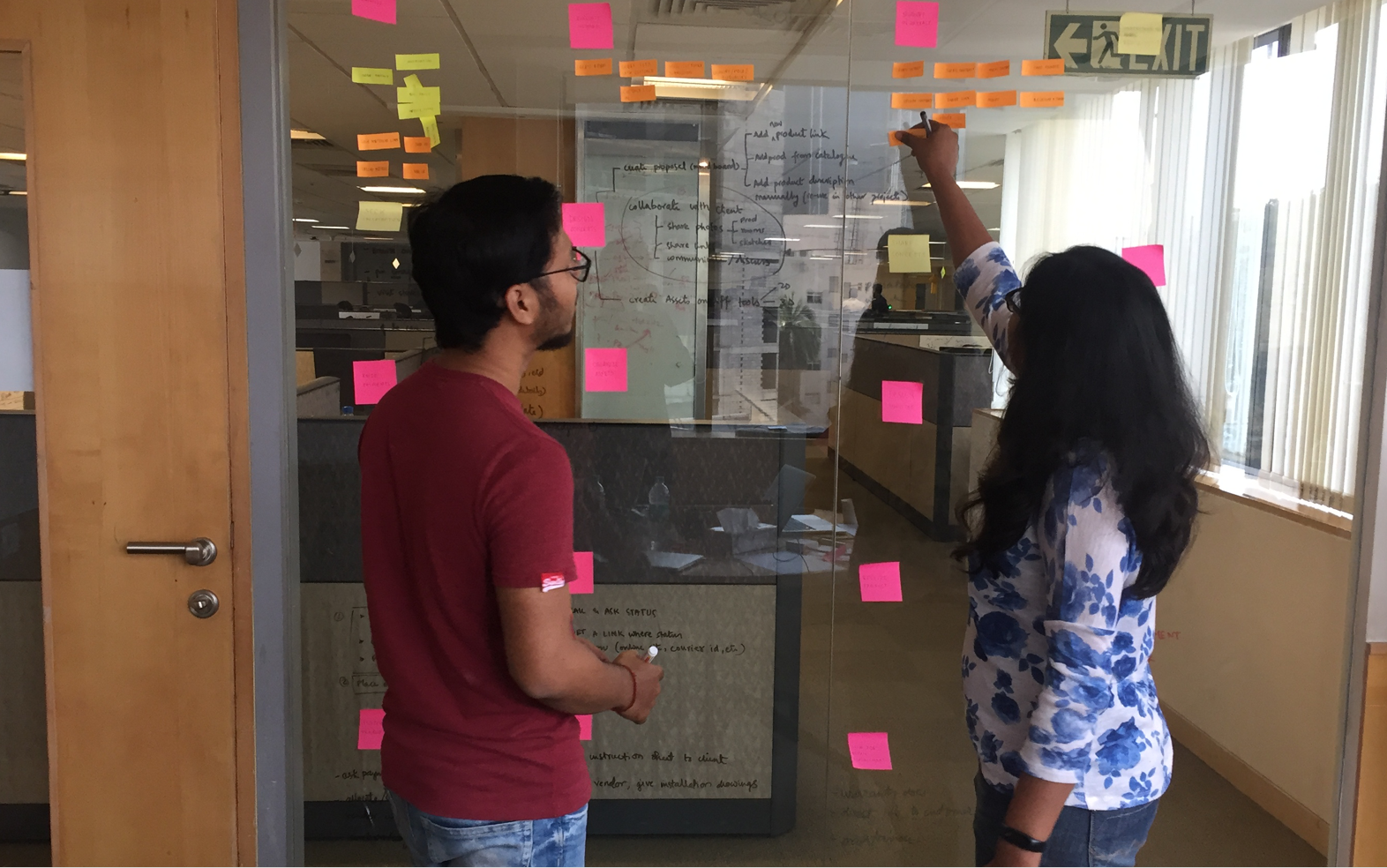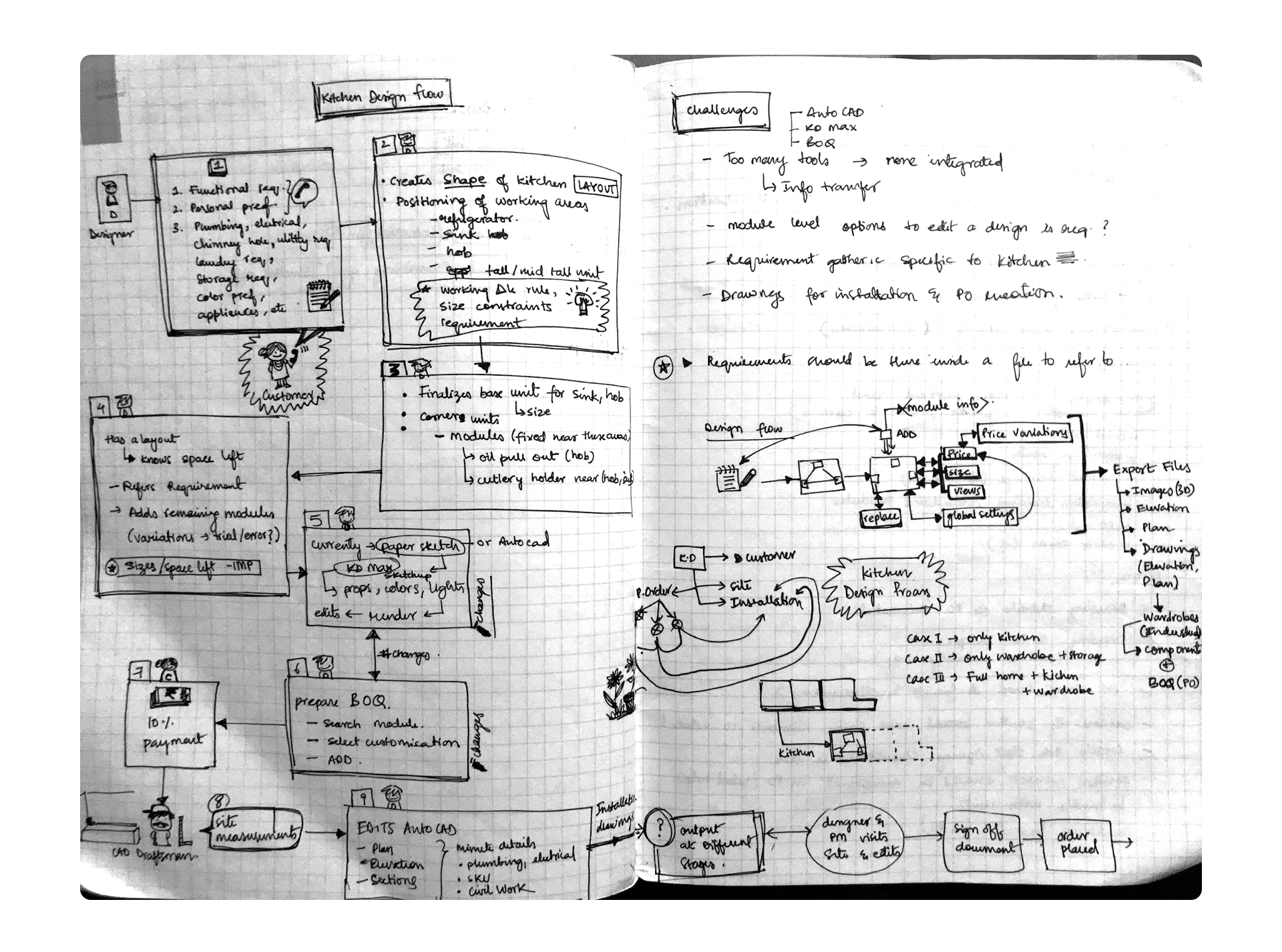 Through my research, I primarily identified two user personas. One is an experienced expert interior design, who handles more projects and need flexibility and speed. The other is a new or less experienced interior designer who wants more guidance and rigid rules to follow. Striking the balance between the two was very important for the product to be successful.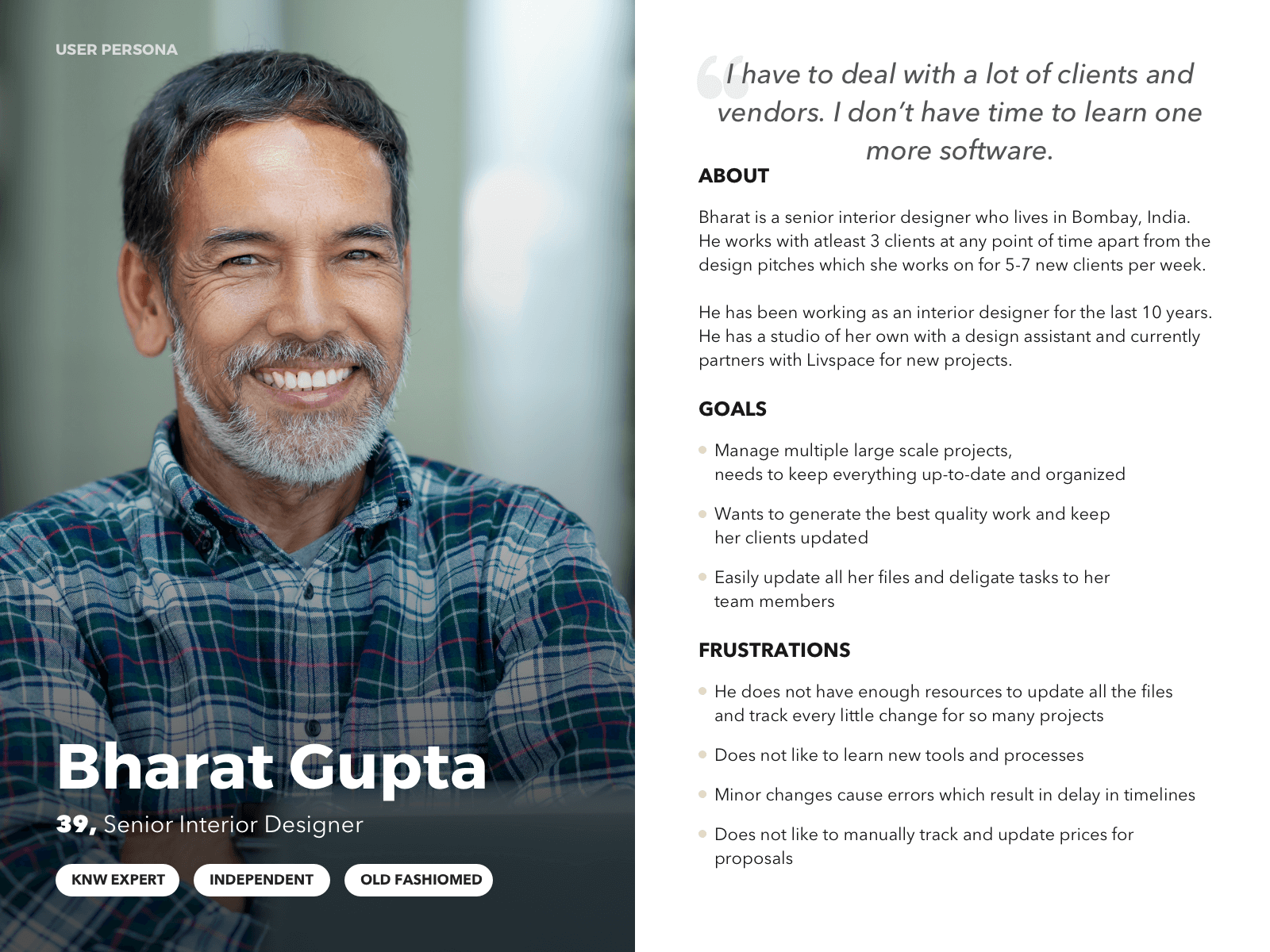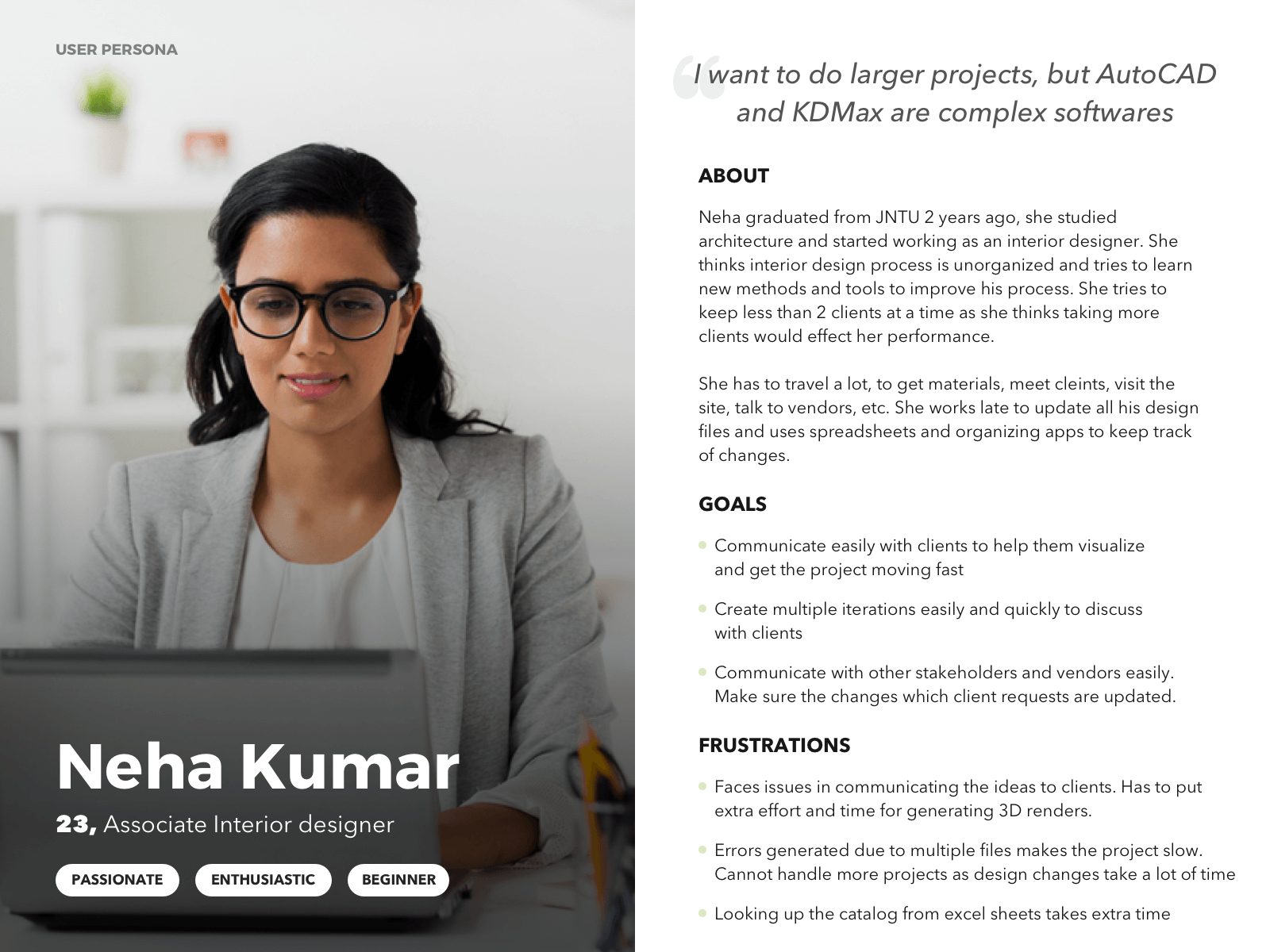 After aligning business requirements and user needs, I started my design process by creating design guidelines. Following this, I discussed with my product manager and prioritized the features. I studied other design softwares to understand the user's mental model and structure of these tools. I ideated on the tool's structure and then proceeded to designing the interaction flows, wireframes and visual design through an iterative process involving stakeholder and user feedback.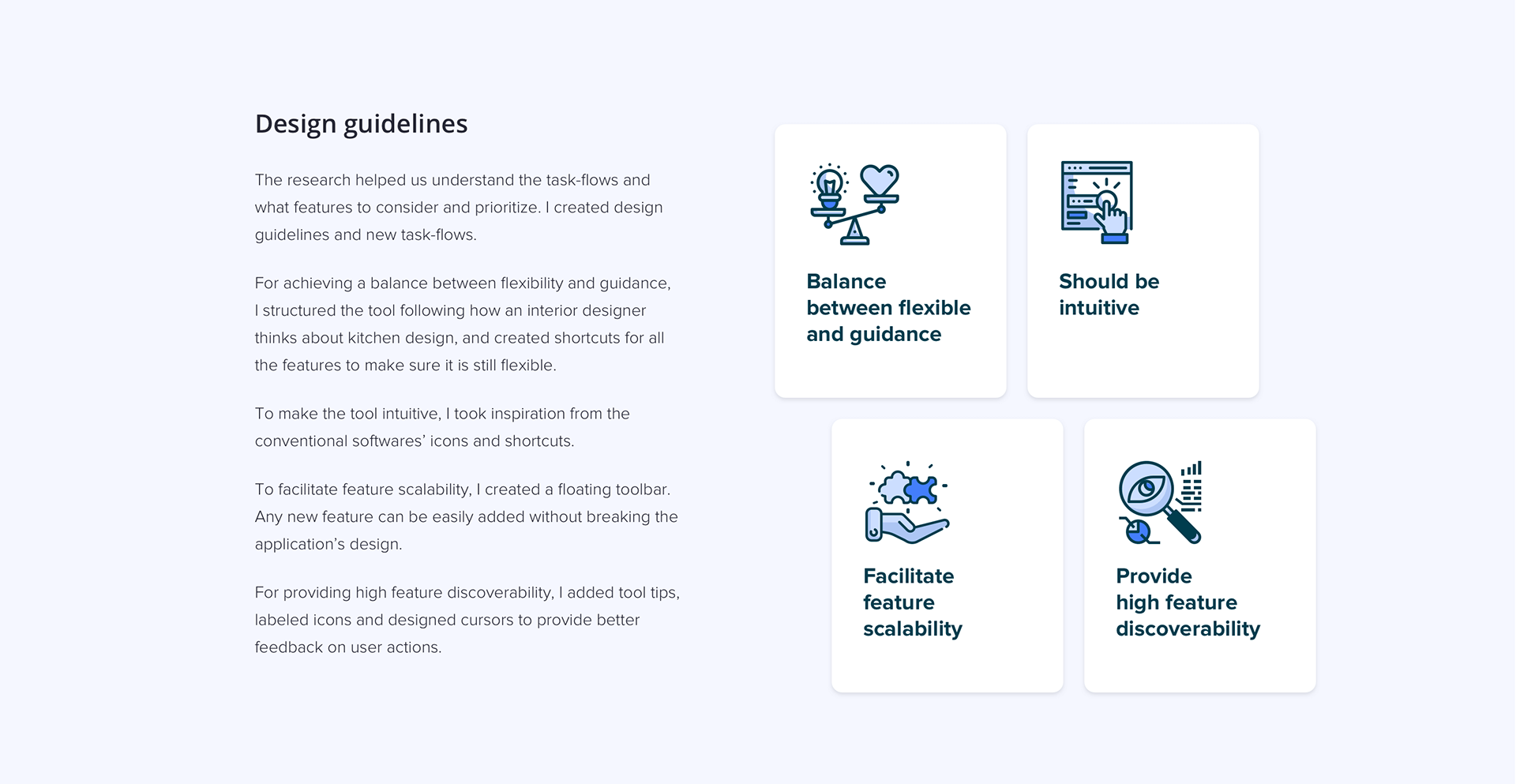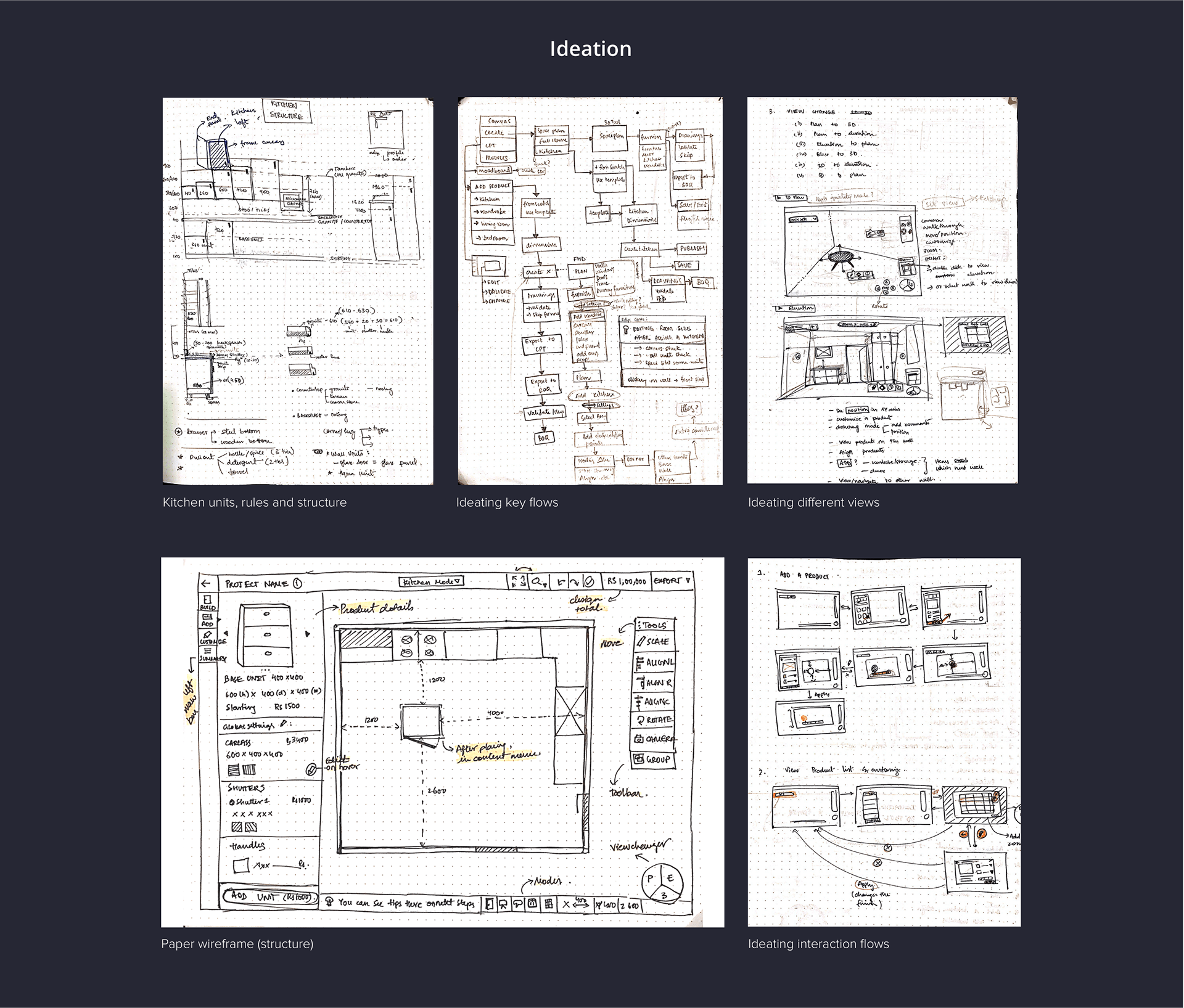 Concept model and mindmap of kitchen design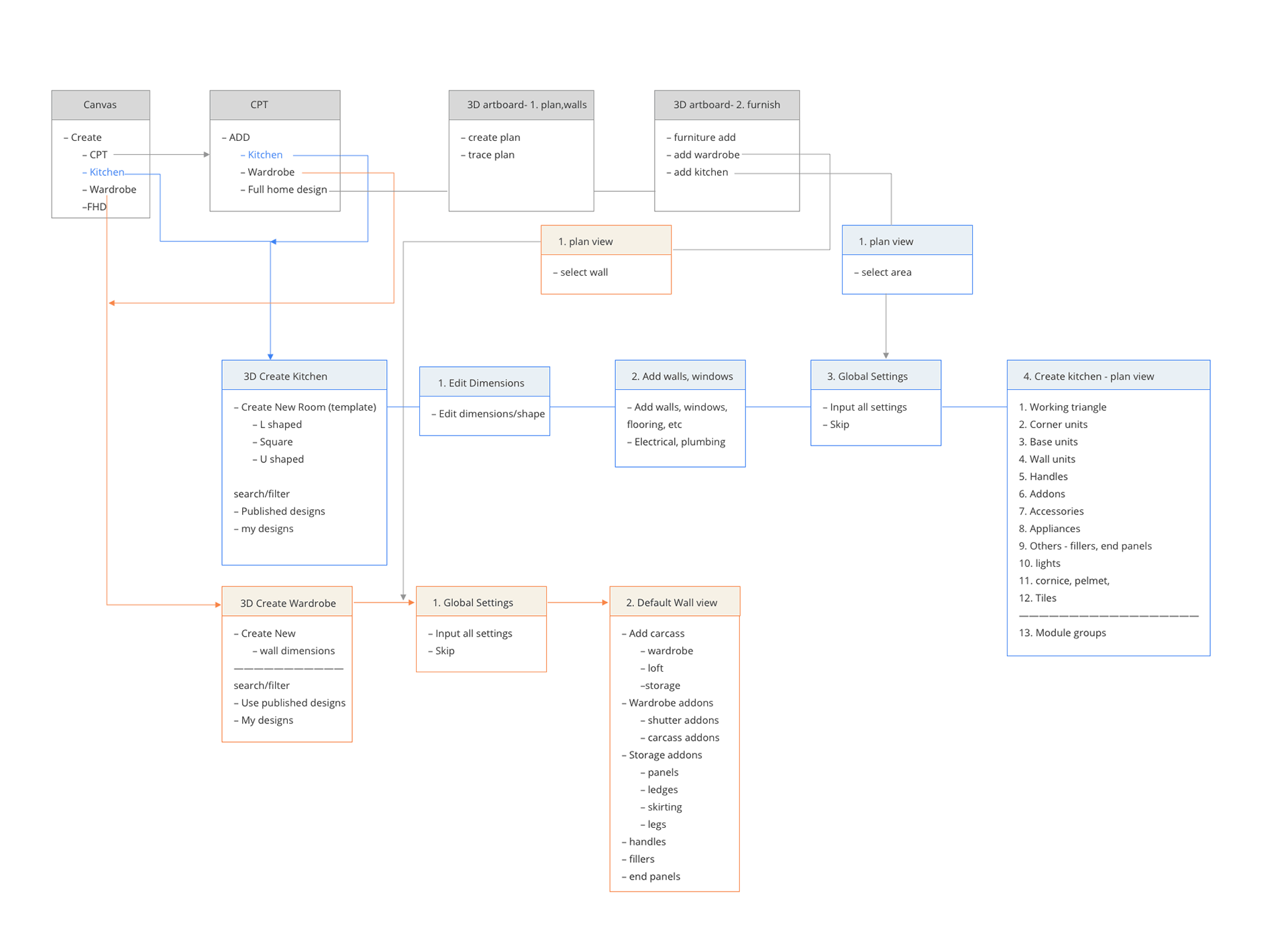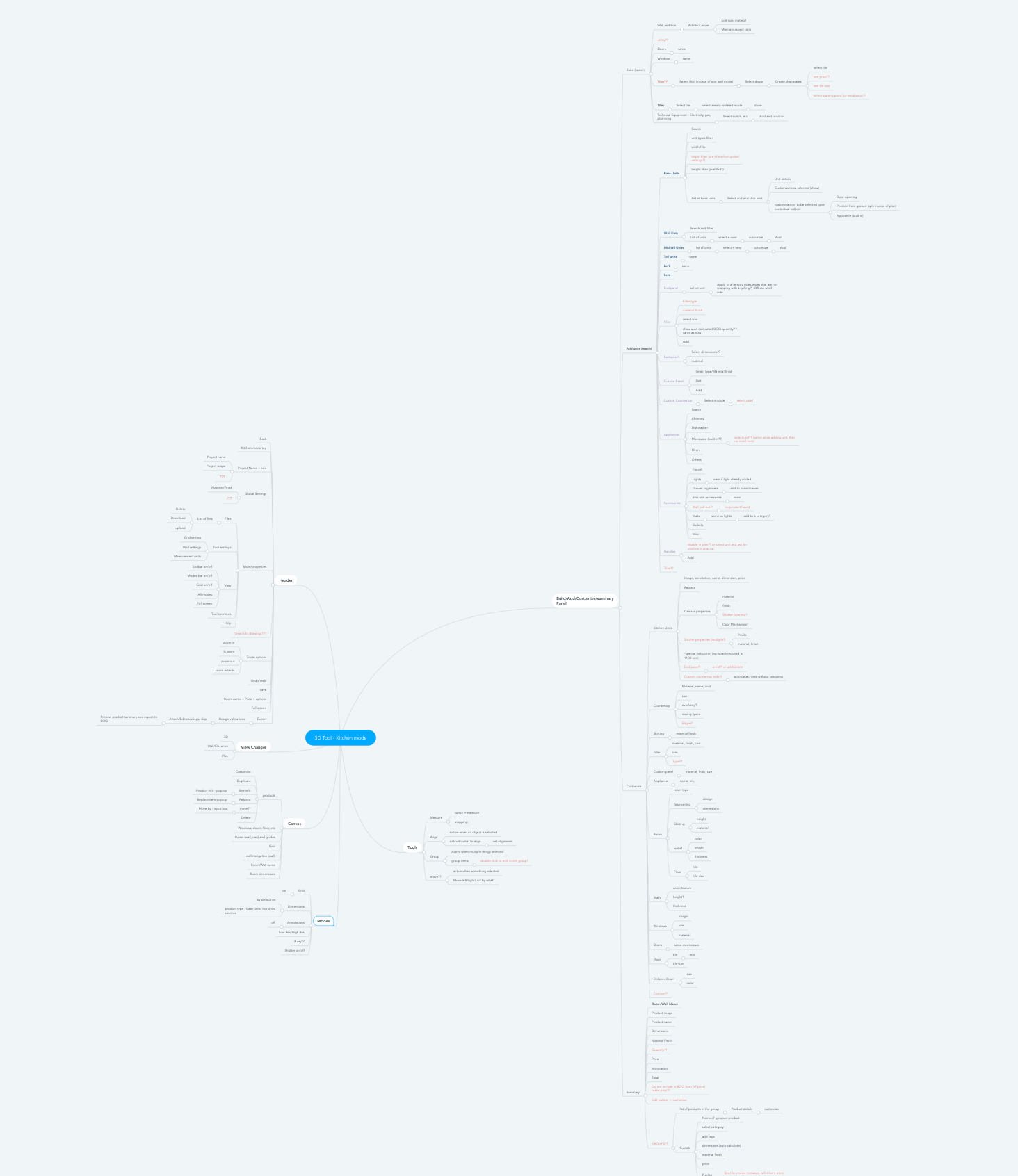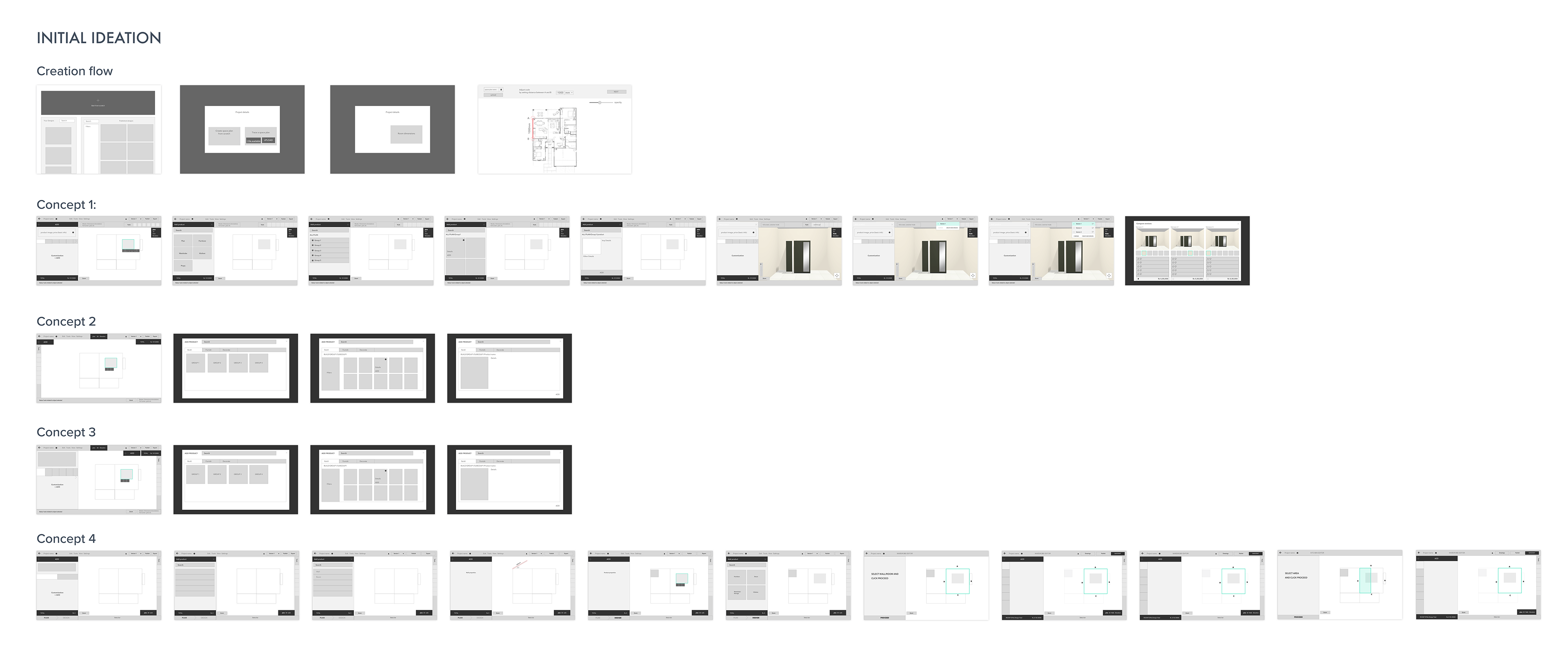 I explored the interface design by experimenting with the iconography, use of colors and other design elements.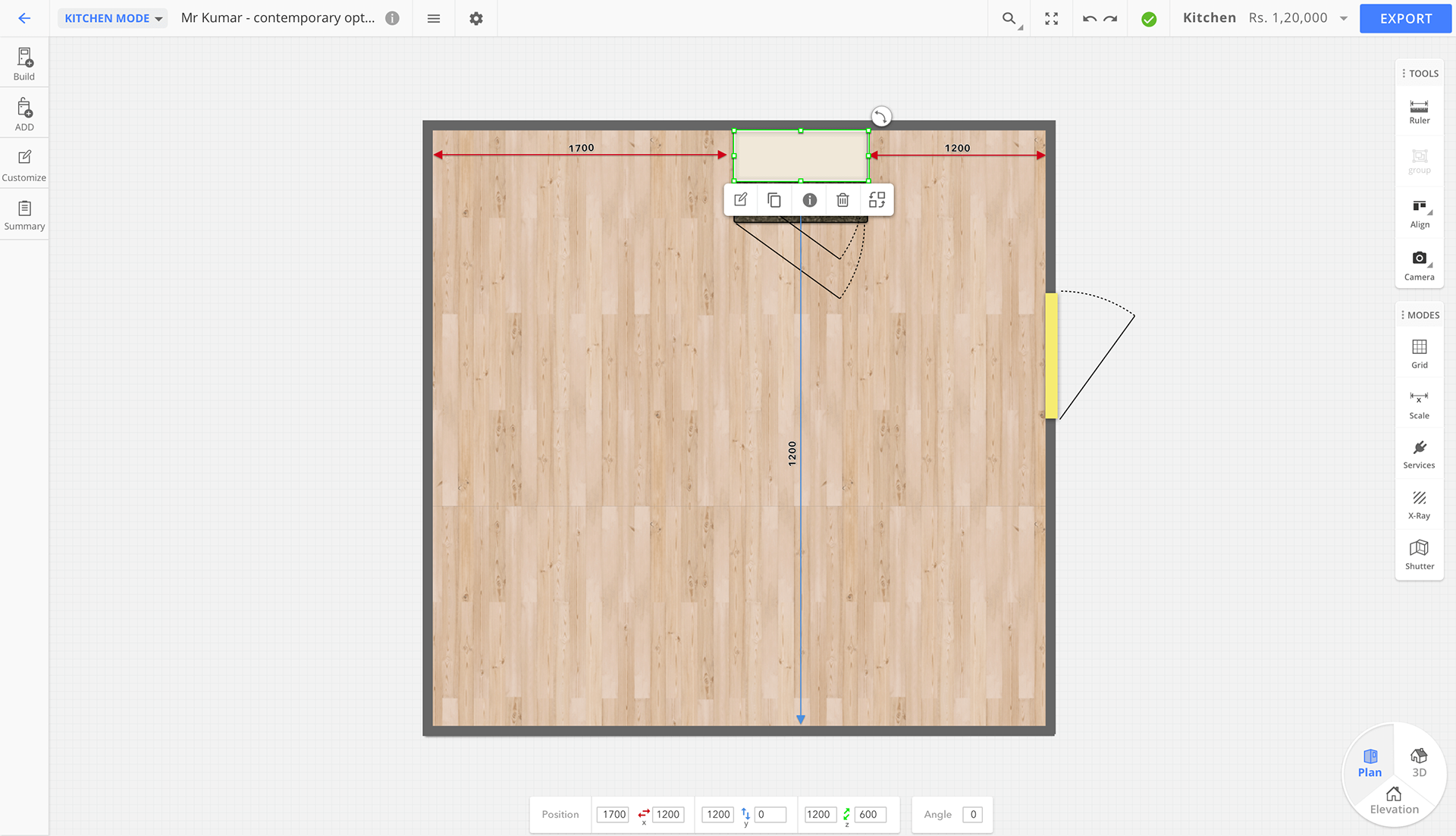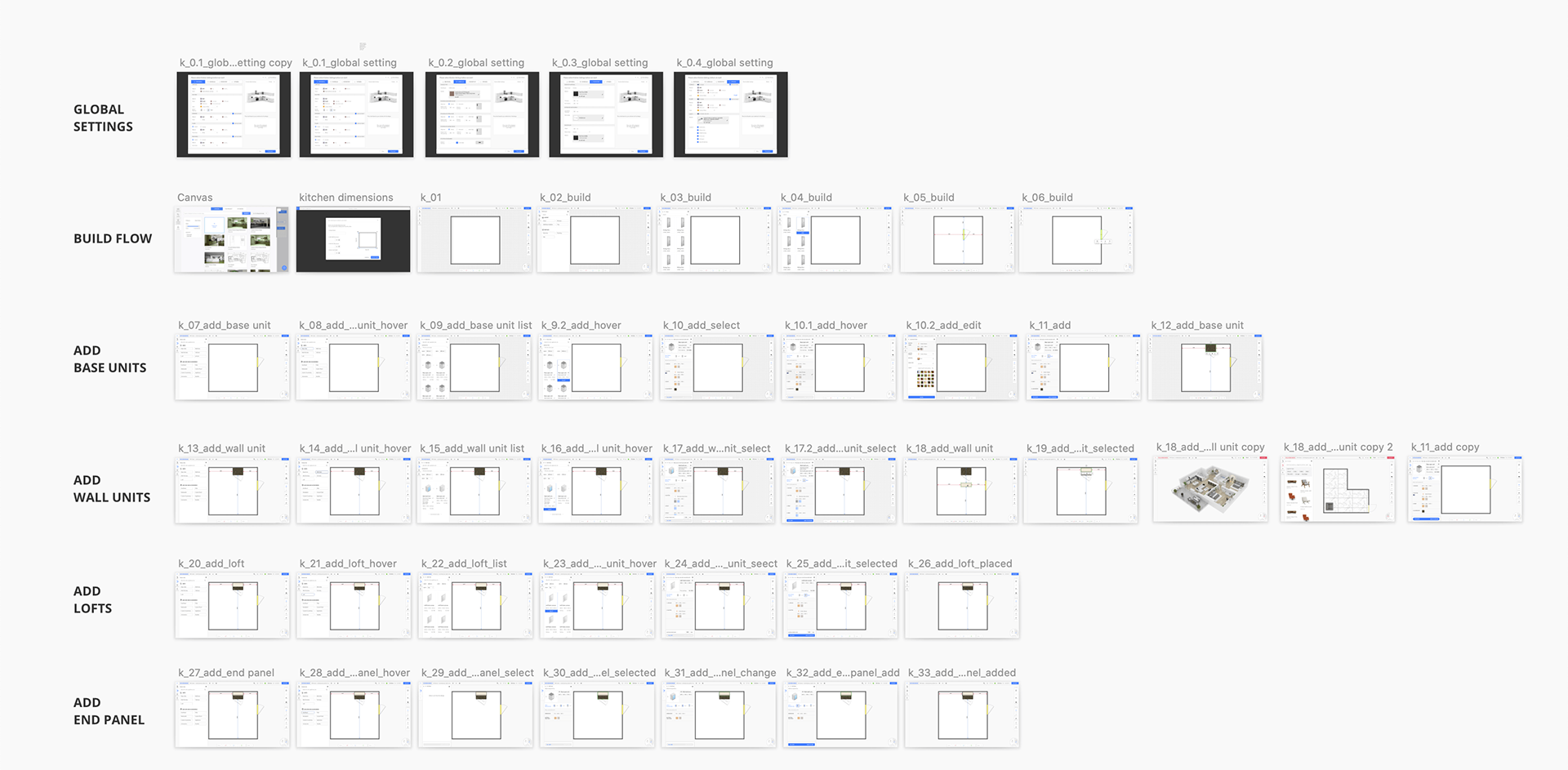 User acceptance testing results:
• 100% task success rate (creating a given kitchen design)

• Time taken to design and export parallel kitchen design's 3D renders and technical drawings reduced from 3 hours to 30 minutes
• Increase in feature discoverability when compared to Livspace's modular storage design tool

• Design iterations achieved with just a few clicks, compared to previous manual addition of each unit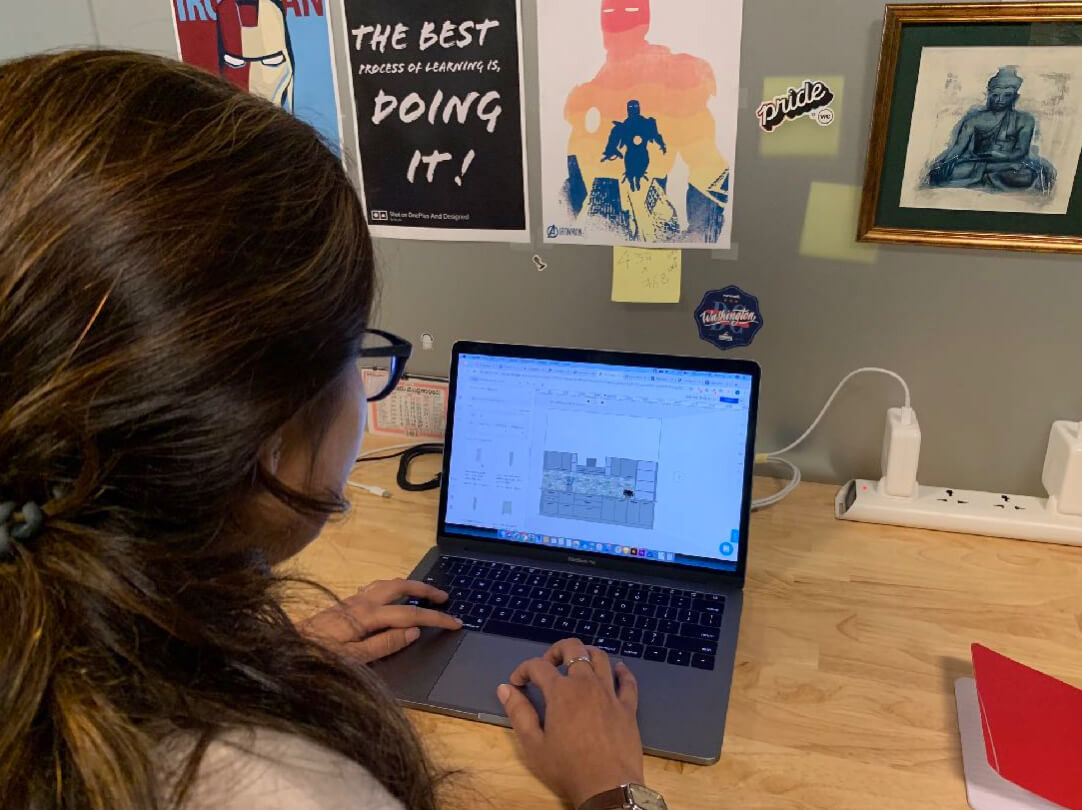 The two years at Livspace was an amazing experience. I moved from a design team of 13 (at my previous company, TinyOwl) to a team of 4, designing a range of web-projects, hiring and mentoring a new designer. At Livspace, by watching the impact of the products I designed so closely, I
 developed a passion for user centered design process and got motivated more than ever to pursue a masters in HCI.
• Achieved 95% adoption rate within one month of launch
• 600 proposals created per day and 400 proposals shared with customers every day
• 50% AutoCAD licensing cost eliminated
Key takeaways from the project: 
• Implementing new behaviors can be difficult - bringing familiarity from conventional tools while innovating flows is the key. 
• Communicating and collaborating well with engineers throughout the design process is essential in understanding feasibility and at the same time cultivating empathy for users among the engineers. This collaboration fostered a creative environment for the entire team to move forward and solve problems faster.