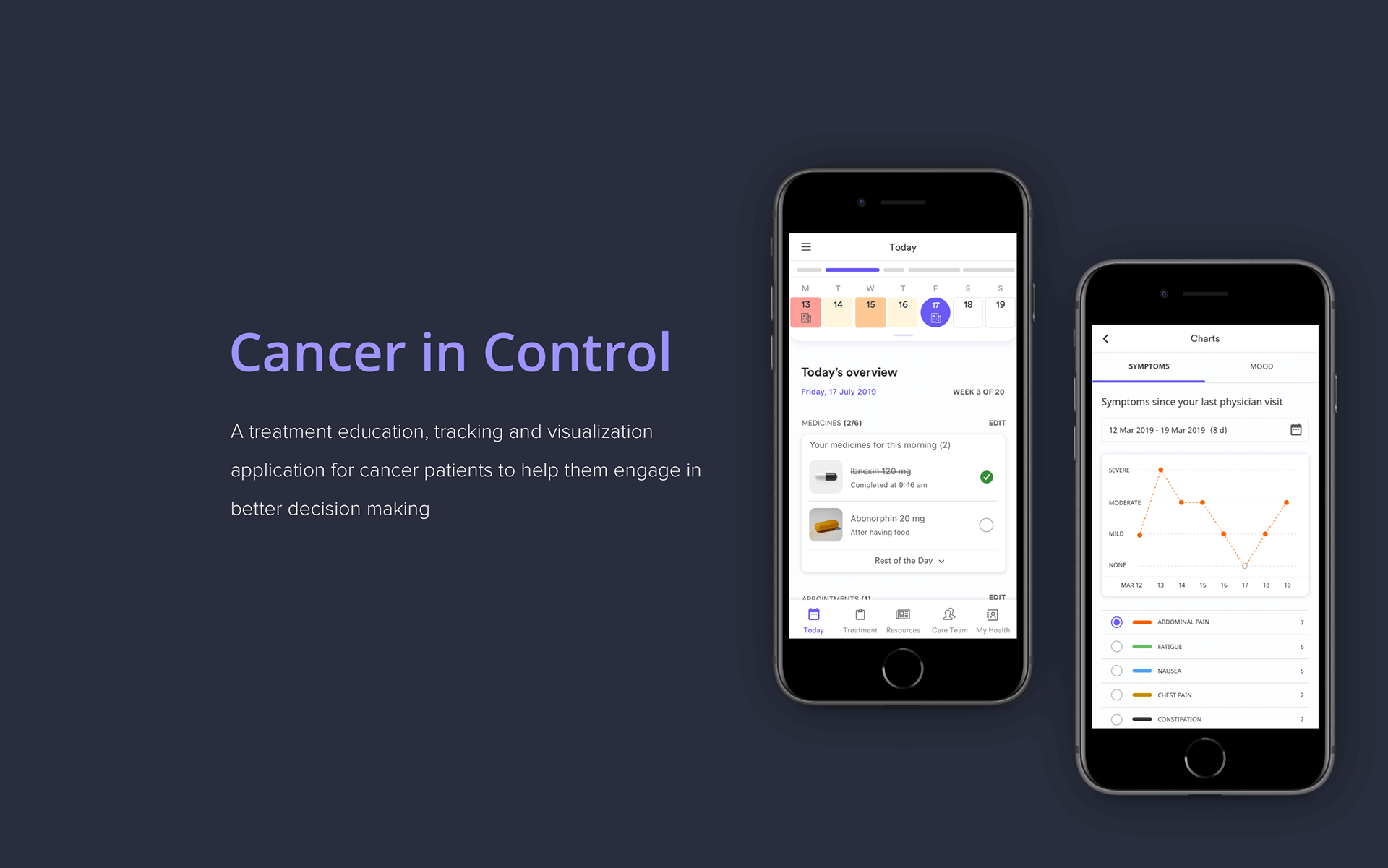 This project is a result of my recent 10 week summer (2019) internship at a healthcare company based out of Boston.
Although there is a lot of information on cancer out there, cancer patients are often not aware of their treatment options and have challenges to engage in clinical decision making. Patients also tend to lack insight on their treatment progress and how their data is used. Moreover, there is no standard way for patients to plan their treatment journey.
Meanwhile on the clinician side, nurses, central screeners, and physicians are overwhelmed by the task of screening and educating their huge caseload of patients for large, constantly changing trial menus.
To help cancer patients enrolling in clinical trials be more informed about their treatment process. 
To educate cancer patients about clinical trials and increase outreach. 
Role:

UX Researcher/Designer
Research methods:

Literature review, remote user interviews, surveys, expert interviews, competitor analysis
Design methods:

user personas, user journey mapping, business model canvas, design workshop, concept generation, wireframing, prototyping
Collaboration:

Product Manager, Design Team Members
Tools:

Sketch, Invision, Usertesting.com, Miro
Duration:

 May - July 2019 (10 weeks)

For the first 6 weeks, I spent my time trying to understand the user needs and pain points. Digging through the existing literature, both in research papers and Genospace's archive was very helpful for me to quickly get an understanding of the users. Remote interviews/surveys on usertesting.com was very helpful in comprehending the user needs and pain-points. Some of the limitations for the research was not having access to users in person and not being able to spend enough resources to conduct a contextual inquiry and get more information about the problems in the real context. However, remote-interviews provided a much broader overview of the user needs in a more efficient way.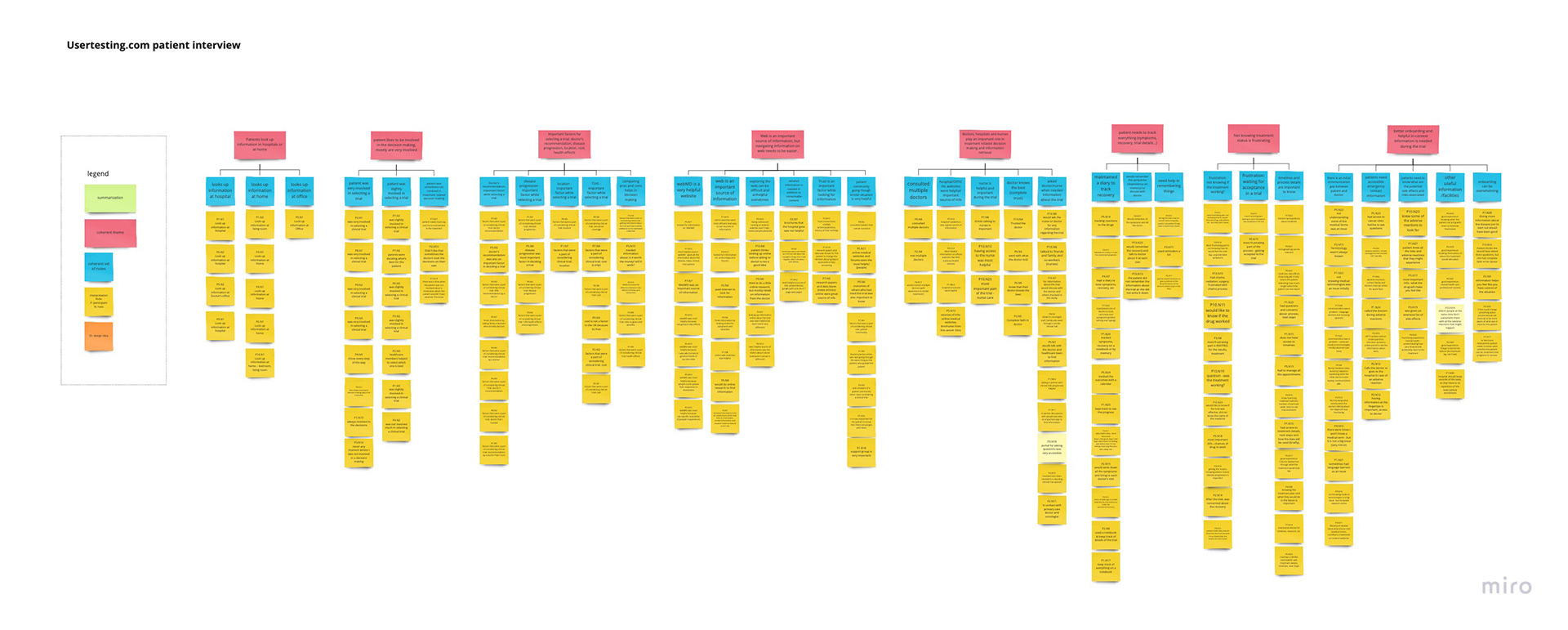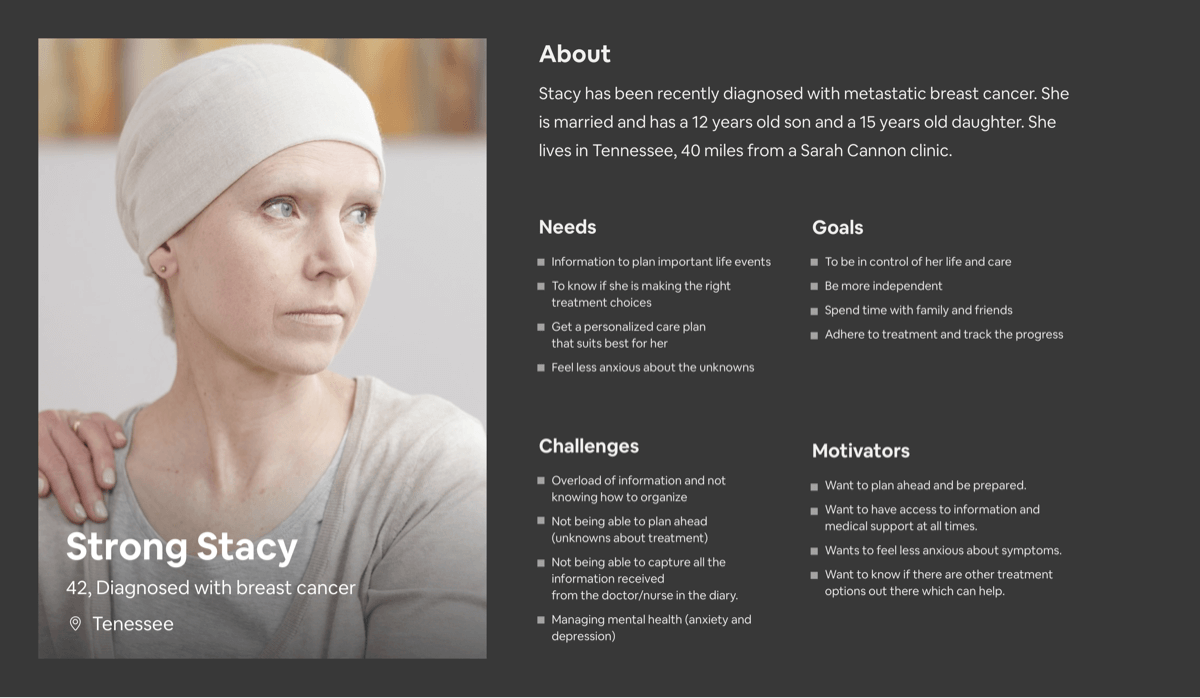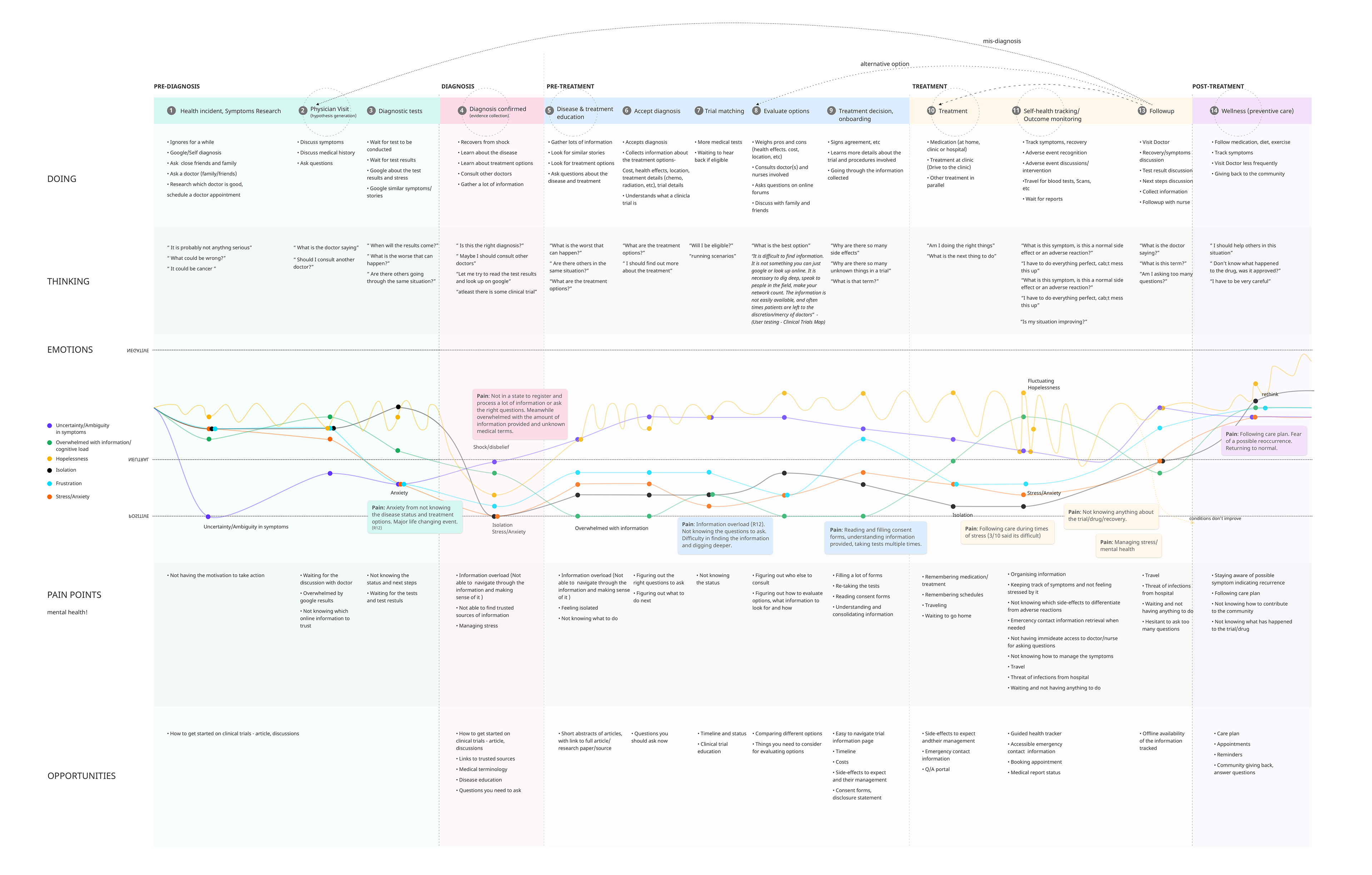 " How might we help cancer patients track their symptoms, plan better, have visibility and control over the treatment information, and make them more aware of different treatment options "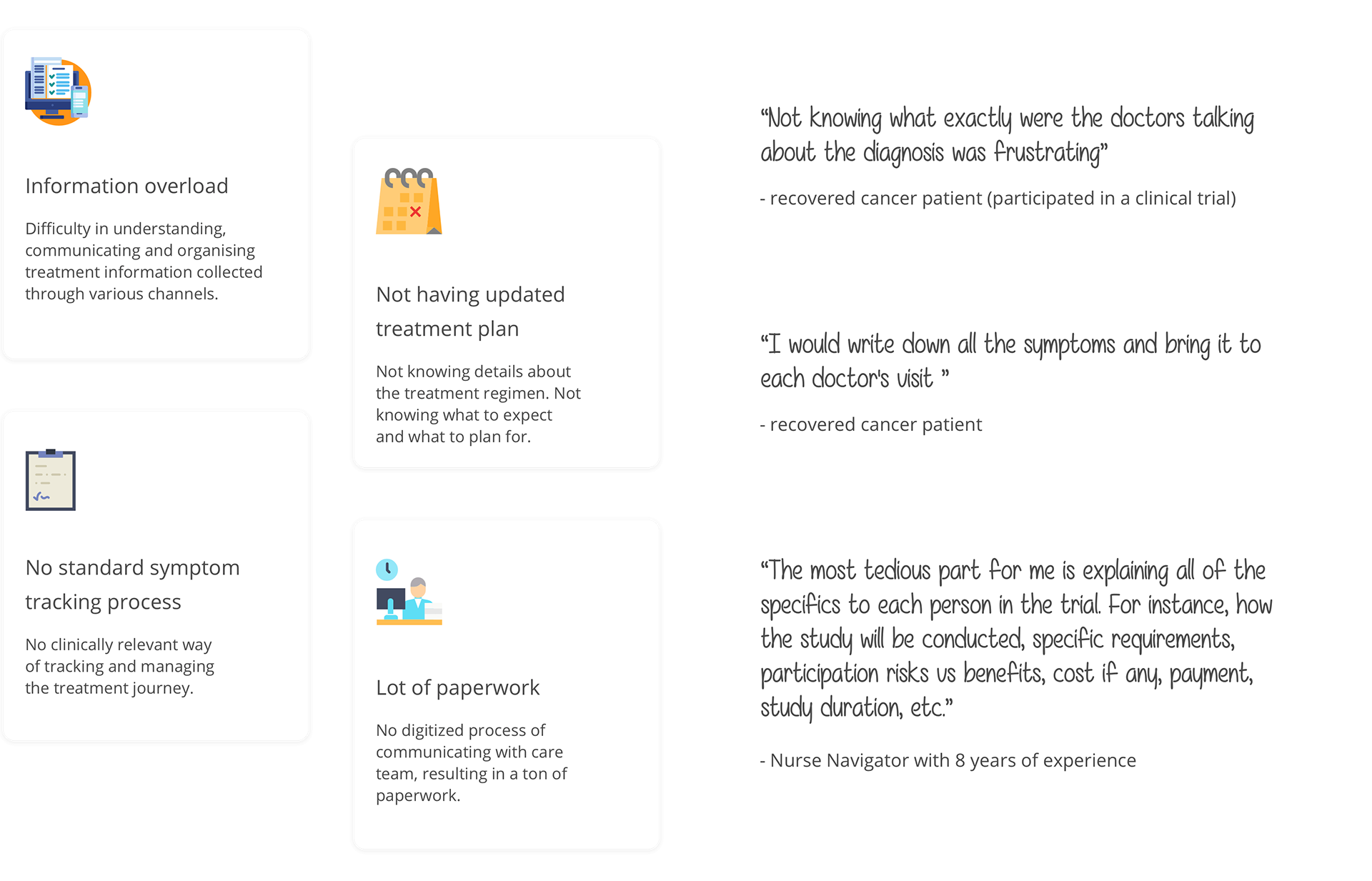 Design workshop


After understanding the user journey and pain points, I conducted a design workshop with the design team and a product manager to come up with a range of ideas for the problems we were trying to solve. I introduced the participants to the user persona, stakeholder map and key pain points from the journey map, and conducted a crazy-8 ideation workshop. For the first half we voted and discussed which area to focus on and for the second half we came up with different ideas for the problem. Some of the main ideas that came out of the workshop are listed below: 
1. Treatment options discovery and comparison using a web application
2. Enabling patient - doctor discussions via a common dashboard visualizing patient data
3. Digital symptom tracker which includes treatment plan and helps keep track of their treatment
4. Enabling better planning using a digital treatment regimen, providing additional information to the current document
5. Having all the treatment information and educational material on a mobile app giving the patients an ability to retrieve the right information at the right time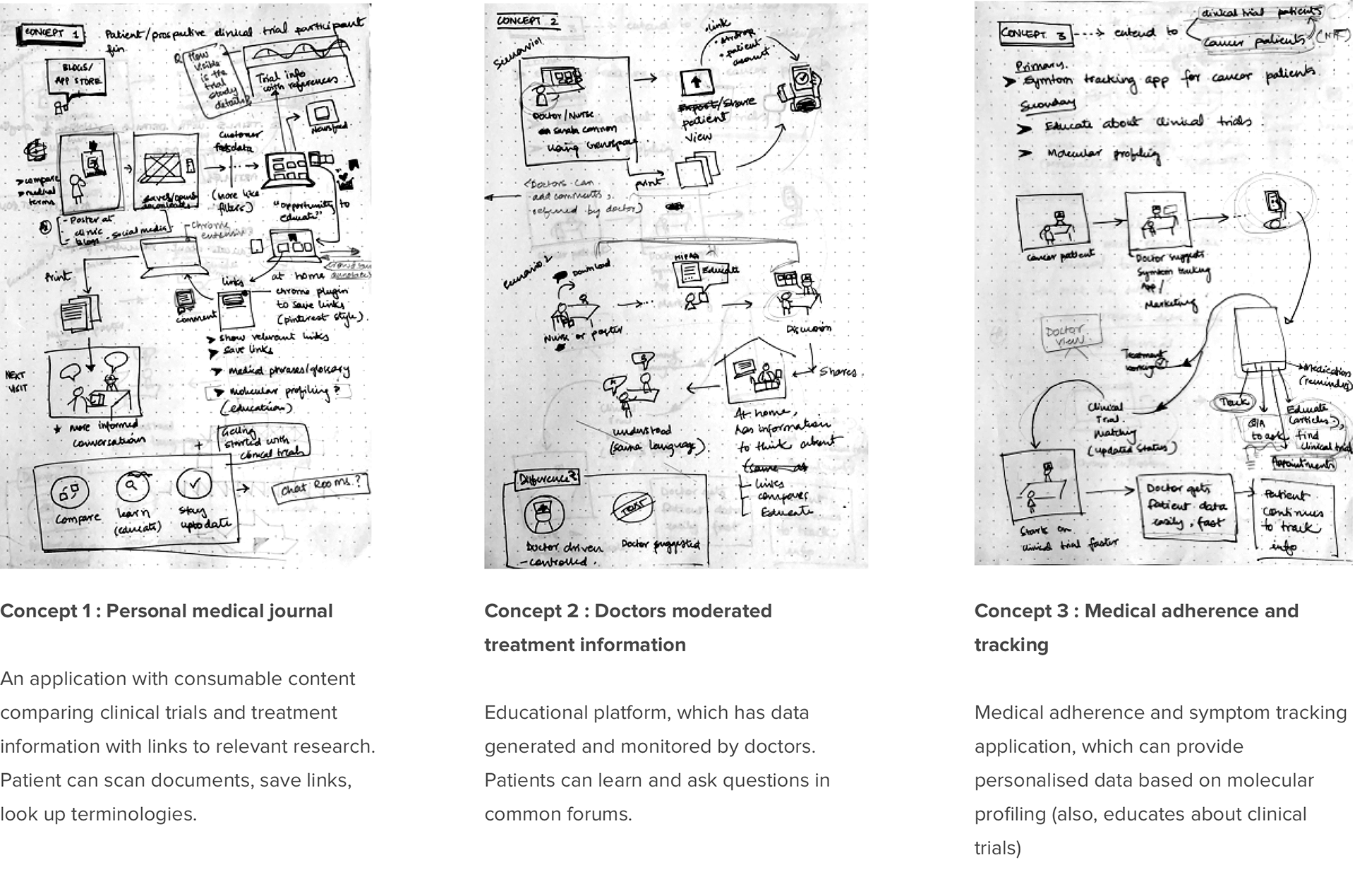 Refined Concept Map and Use cases
After collecting feedback on my initial concepts from the design team, I combined different features from each concept which addressed education, medical adherence and communication. I decided to create minimal dependency on the medical team. I decided to move quickly and create more detailed concept map along with a low-fi prototype so that I could deploy user testing sessions and get feedback on the concepts.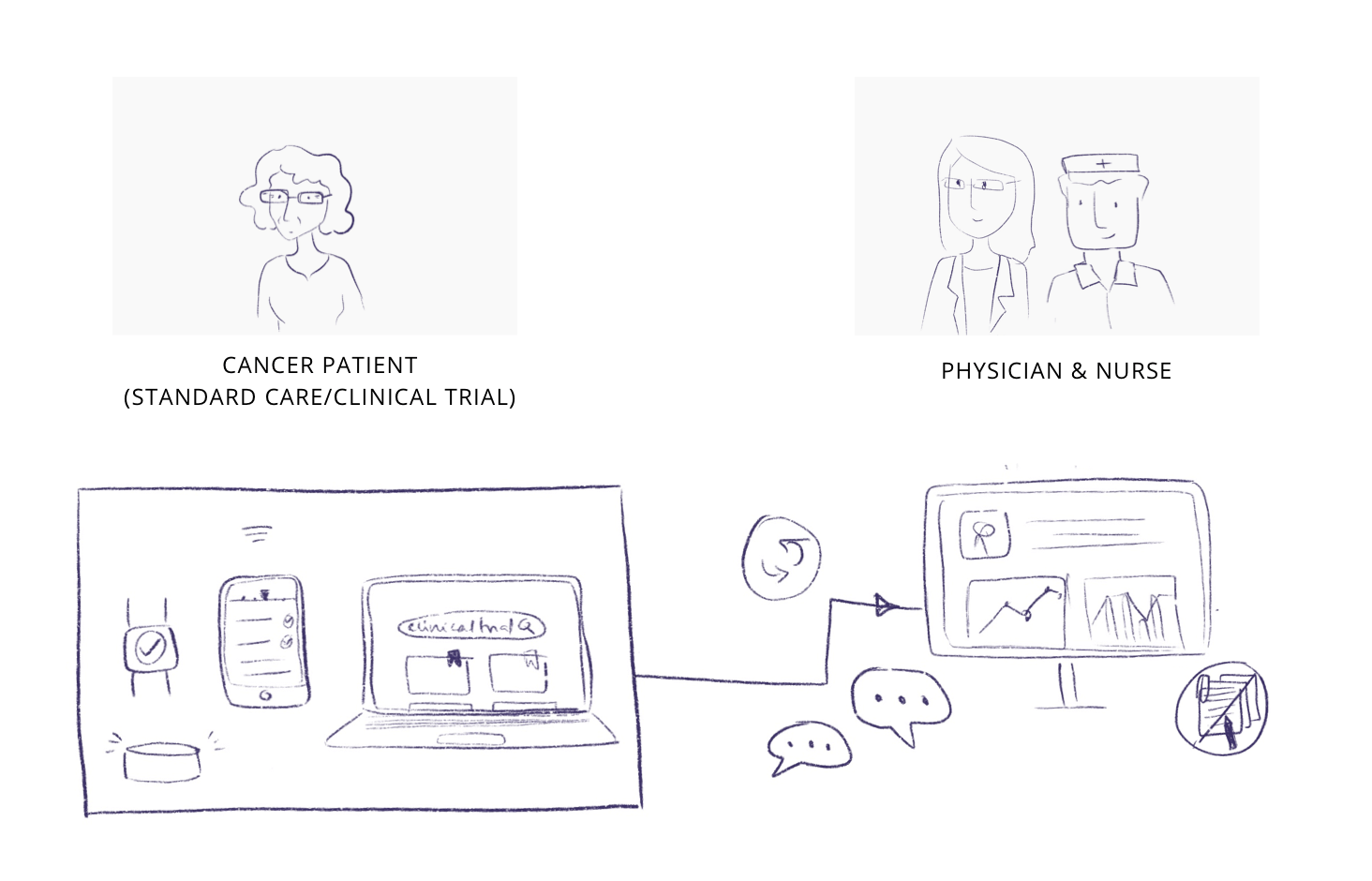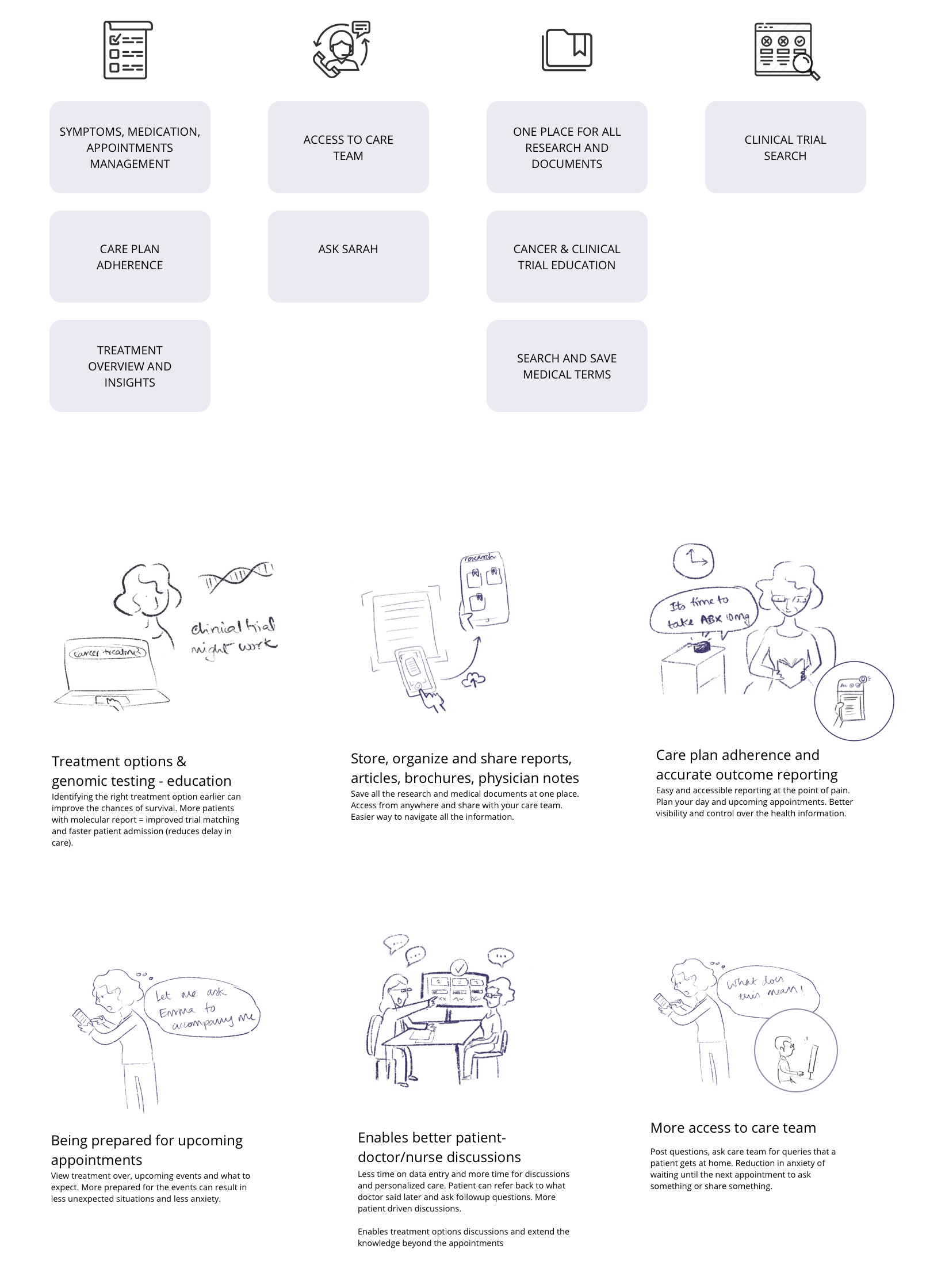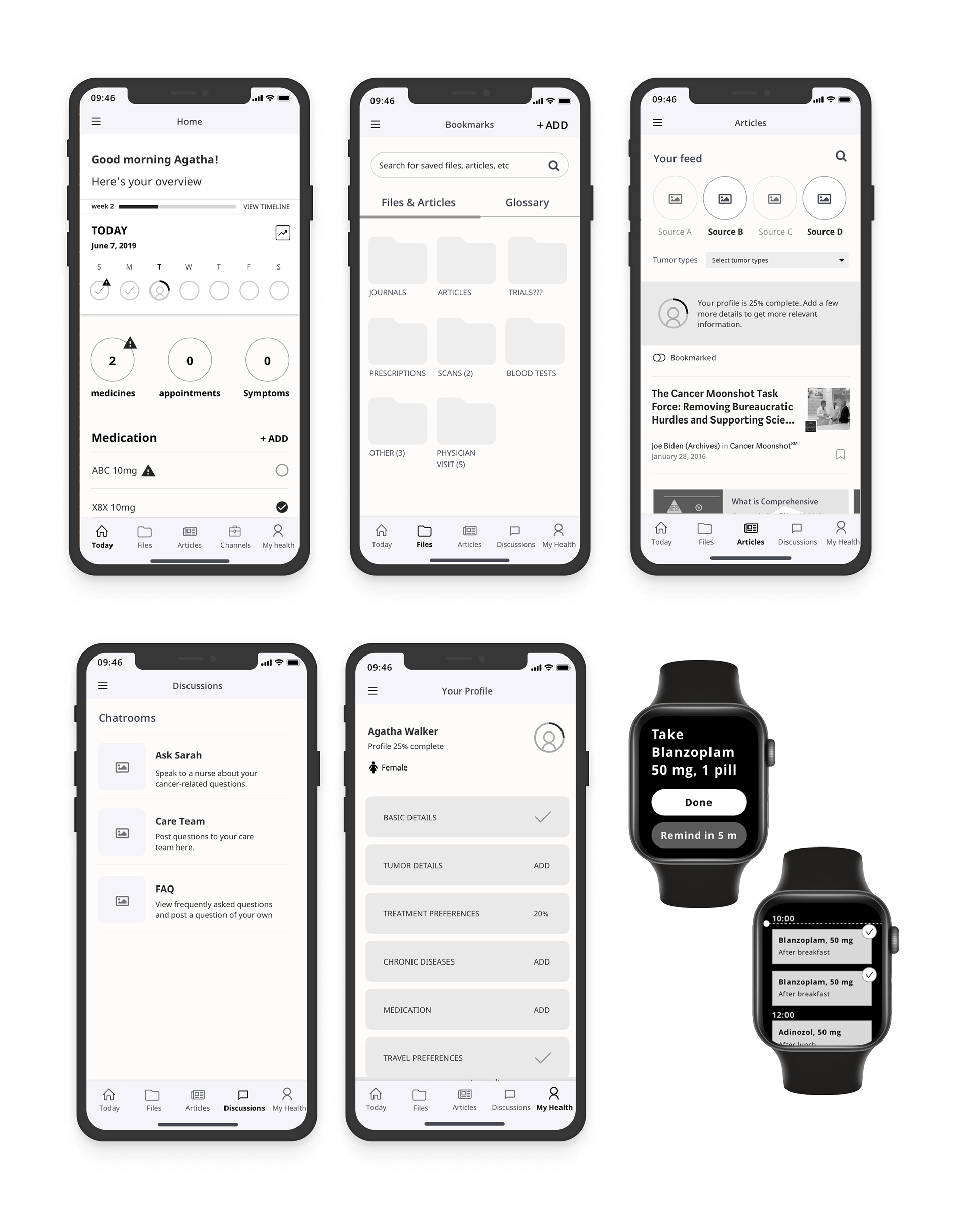 I collected feedback on the concepts by testing it with 20 cancer patients and 20 caregivers using a think aloud protocol. This helped me figure out the user's understanding of the features, feature prioritization. This helped me understand if the product is solving their problems and if it is adding any value. The feedback was overall very positive as there are currently no applications with all these features, making it a one-stop place for everything related to the treatment. 
Internal feedback 
2 UX Designers, 2 Product managers
Content suggestions: labelling of tabs (eg. my health instead of profile).
Discussed about tabs vs toggle for bookmarks.

Discussed different visualization ideas. 
Discussed the feasibility of all the features, such as the calendar data, linking the medical data to EMR 
User study feedback (think aloud protocol) 
20 Cancer patients, 20 caregivers
"Having one place for everything is very helpful"
Participants felt the feature of having their calendar mapped with the treatment regimen will make their life easier.
The usability of symptoms feature could be modified to clarify if these are the list of symptoms they should expect or if it is an exhaustive list of all possible symptoms.
Setting an expectation of when the care team will responds is important. 
Personalized cancer management 
at your fingertips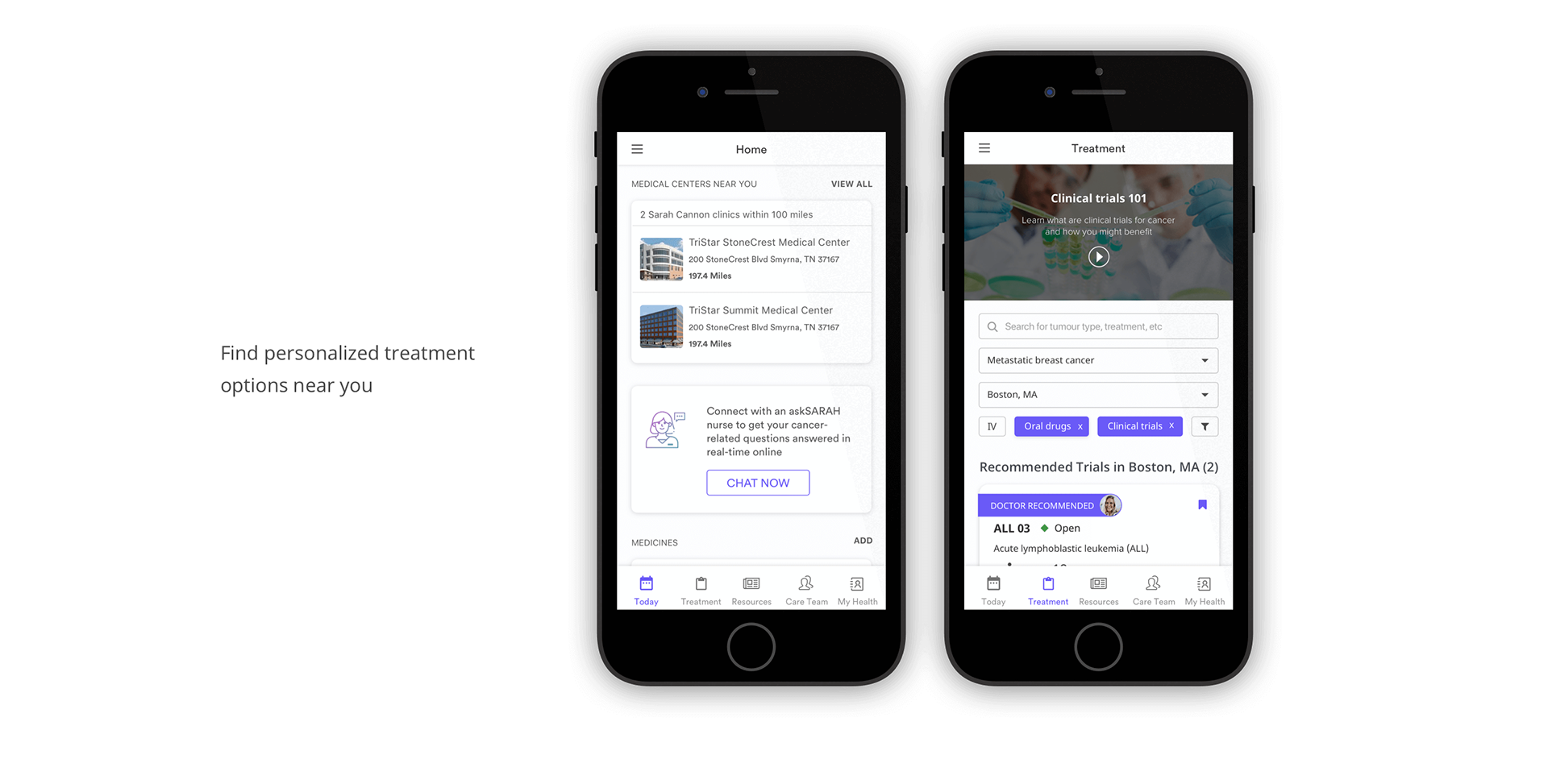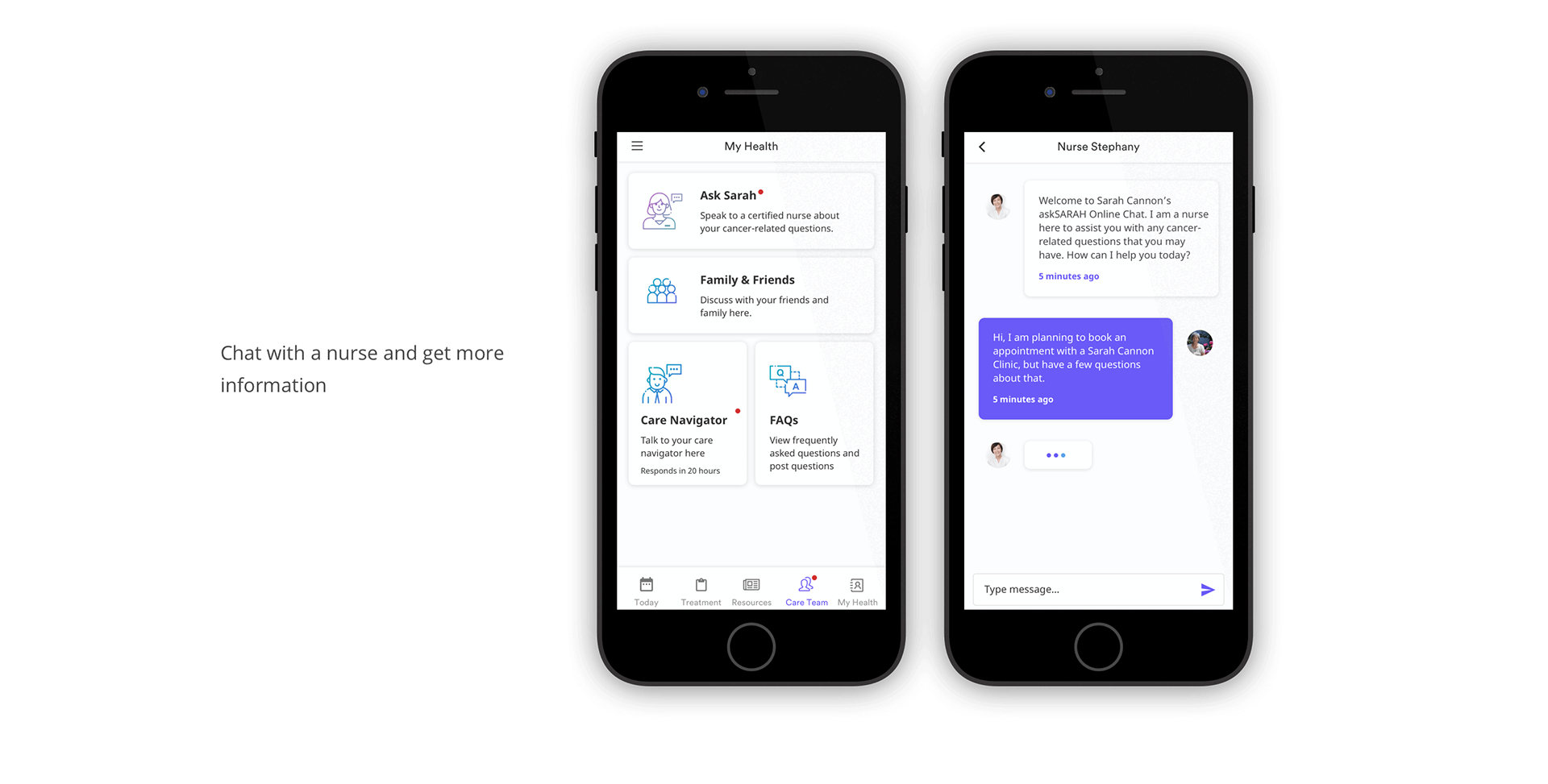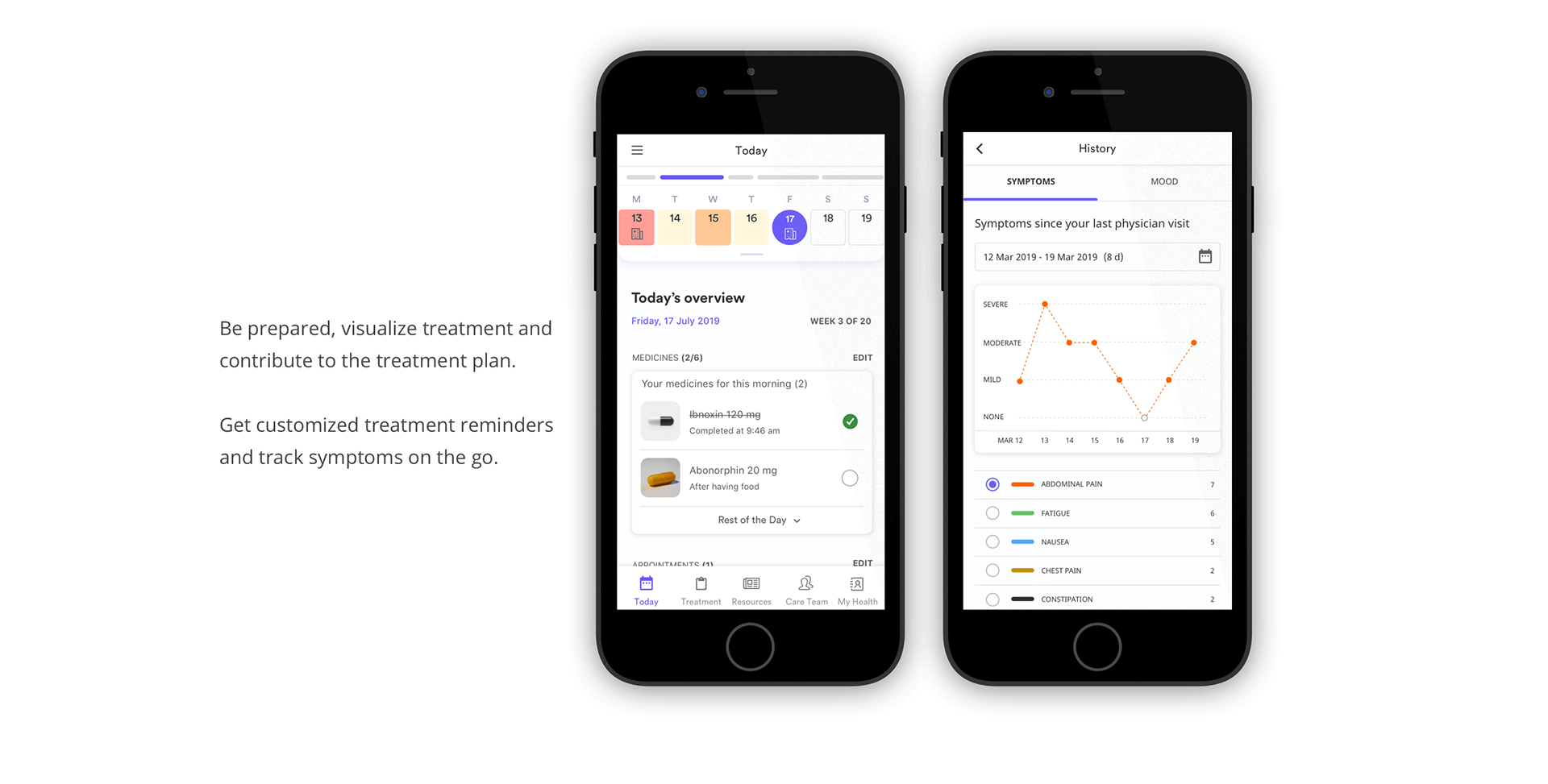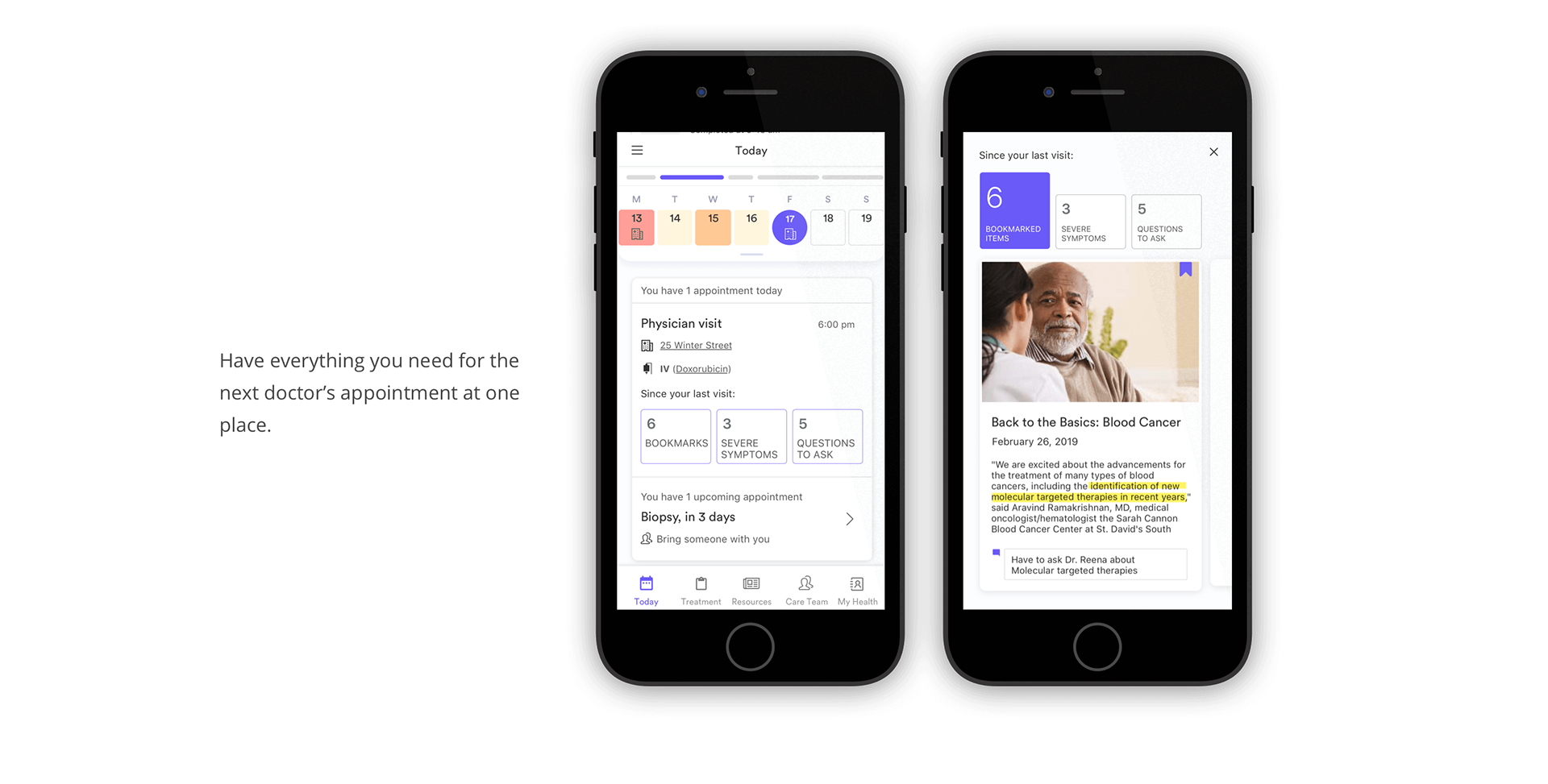 Service blueprint & Business Model Canvas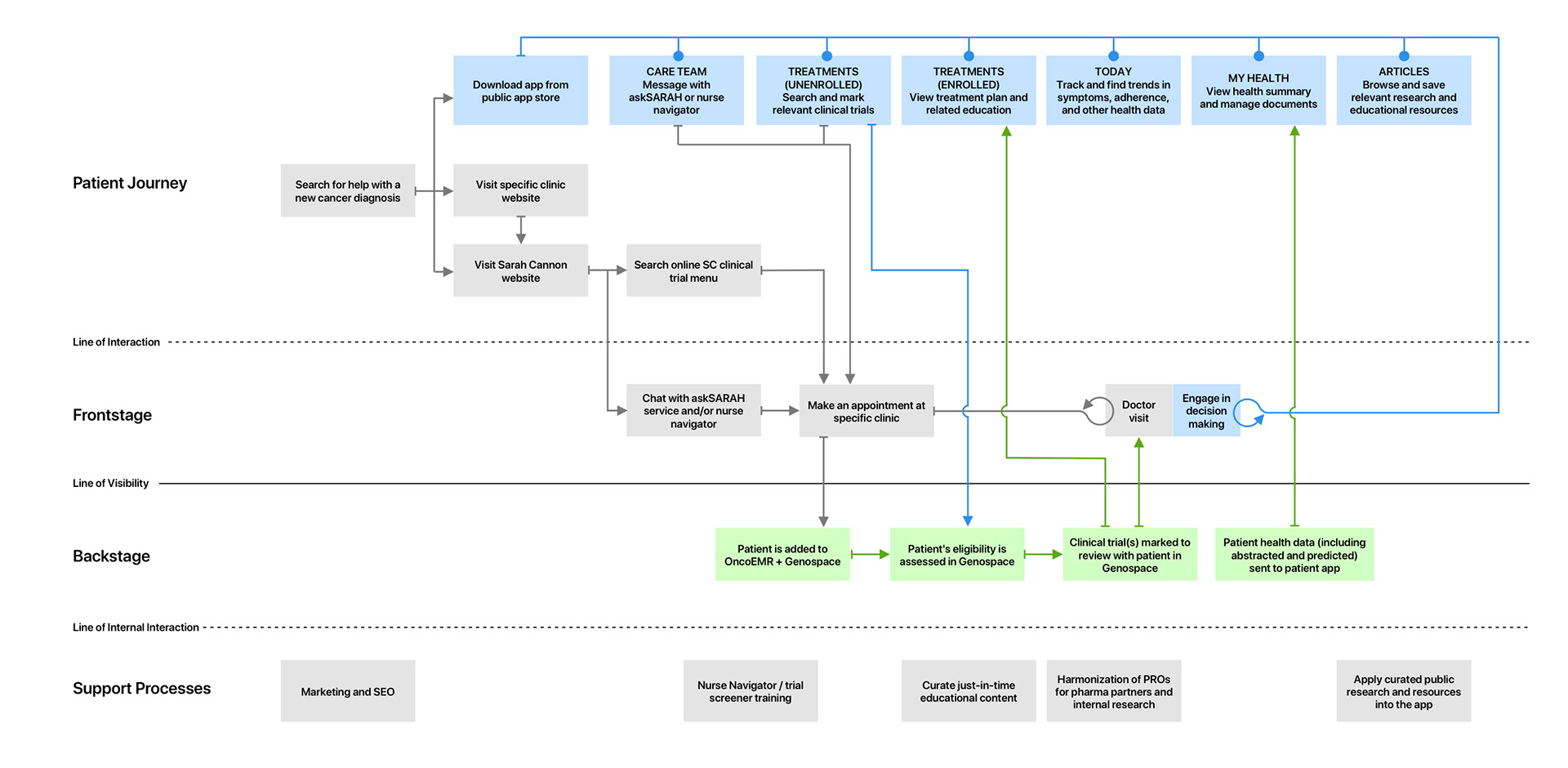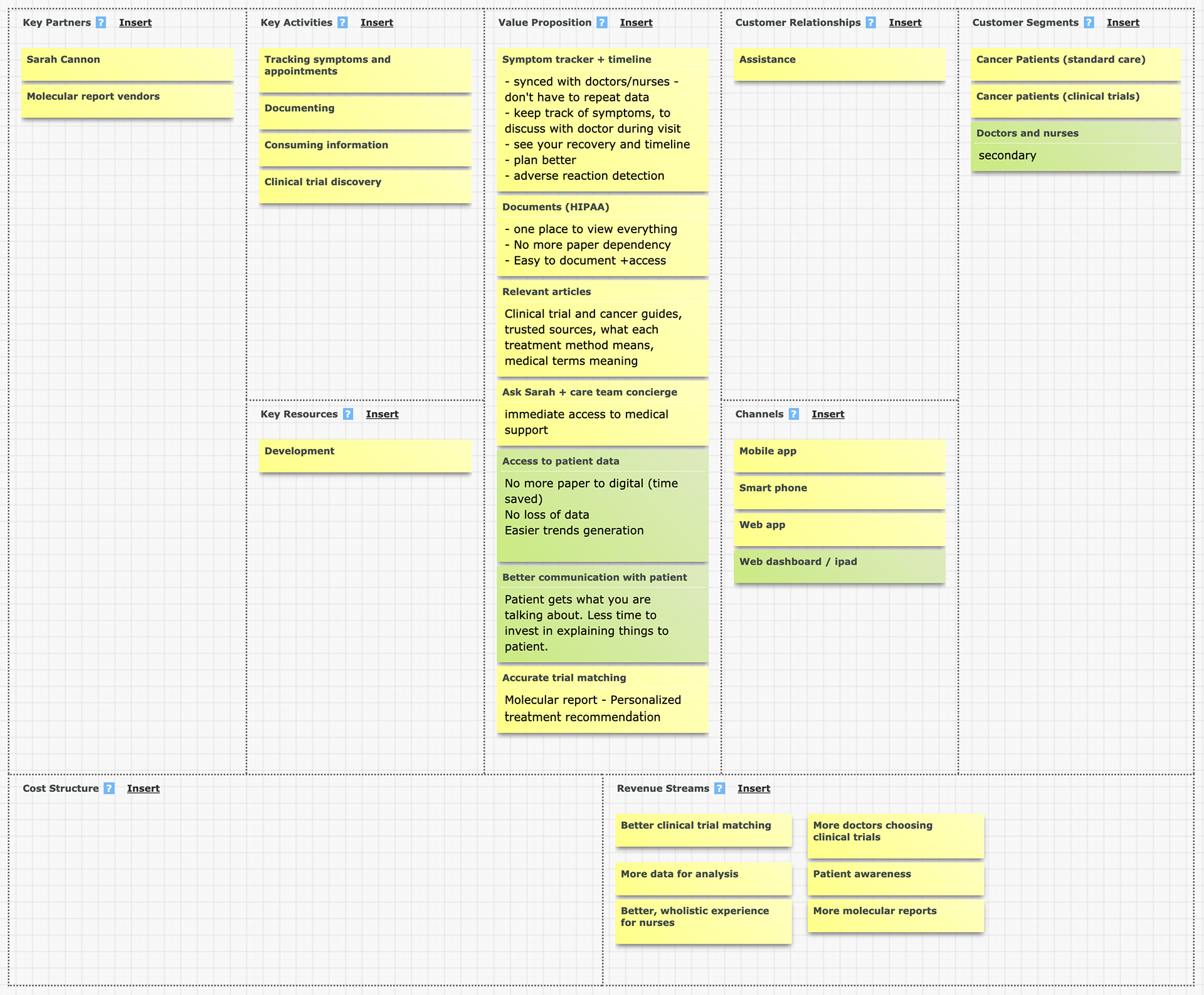 Vision
The current prototype is a concept created based on initial research and a few iterations. The MVP was approved by the parent company and the project moved into development pipeline after my internship. The future vision of the app is to make it more ubiquitous and accessible for easier data capturing. Exploring extending the core features to wearable and home assistant could be a possible direction to go into. 

Reflections
My internship experience was focused on applying my new knowledge from grad school and my old knowledge from previous experiences to design solutions in healthcare. One of the challenges I faced was to start with an extremely broad problem statement and not having any knowledge about American healthcare system. Research was critical in helping me in narrowing down and creating value for end users as well as the business. I had to plan carefully as the timeline was short and I had to conduct both extensive research and design. I took a horizontal design approach and presented my work to the company by the end of my internship, which was well appreciated and the company decided to take the project into development pipeline. Apart from work, it was a great break from school to reflect on my growth, strengths and weaknesses. Overall it was a great experience and I was glad to have a wonderful work environment and colleagues.